7 Top Instagram Marketing Trends That Will Dominate 2021
January 9, 2021
Article Overview
10min read
Instagram, the visual-centric platform, has altered the course of digital marketing for good, because, what started as a photo-sharing app is now a source of income for creators and a new sales channel for businesses. The worldwide popular social media platform that now serves as a key tool in marketing any business provides marketers with tremendous opportunities to enrich their customer engagement and increase sales. Reports highlight that 90% of accounts follow a business on Instagram.
From Reels to cross-platform messaging, Instagram trends keep changing. Especially in the year 2020, due to the pandemic, social uprising, and competitors shaking things up, the change has witnessed a faster pace than ever. These trends can make or break your social marketing strategy, therefore, to stay ahead of your competitors keep abreast of the latest upgrades and trends. Take advantage of new features and beta tools when you are strategizing your social media marketing campaigns and keep track of what is going to trend on it in the upcoming months.
7 Top Instagram Marketing Trends for 2021
From a focus on Short-Form Video Content to more authenticity measures, check out the top trends that would shape the future of Instagram marketing in 2021.
1. Reels on Instagram Expected to Rise
As TikTok is facing an uncertain future in the United States, Instagram tries to lure the US TikTok audience by launching Reels – a new feature which is a direct competitor to TikTok – on its platform, so that users can create and discover short and entertaining videos.
Instagram Reels becomes the user's favorite, as it requires only a shorter attention span, is easy to share and has the ability to go viral. This short-form video option allows users to record and edit 15-second multi-clip videos with audio, effects, and new creative tools.
The feature that has been launched globally in more than 50 countries – including the US, UK, Japan, India, Brazil, France, Australia and several others – helps brands and creators create educational content and showcase their products or services in a creative way.
This year, let's consider adding Reels to our marketing strategy. Try to incorporate unique, short and informative content that will keep users on your content longer. Such content can also create more possibilities to reach new audiences and thus achieve business growth. It is expected that the Reels algorithm becomes more sophisticated for brands to use in the future.
According to the leading visual marketing platform, Later, in 2021, Instagram will be experimenting further with Reels like lengthening it's time to 60 seconds, introducing a "duet feature", creating a more tailored Reels algorithm, brands focusing more on Insta's latest features – such as Reels, Instagram Stories, and IGTV- and brands and influencers collaborating on Reels content.
2. Instagram Live Will Continue to be Popular
Instagram Live that works within Instagram Stories – a feature that launched in August and used by 500 million Instagram accounts every day– lets users broadcast videos to their followers or other users in real-time. In fact, one-third of the most viewed IG stories are from businesses.
Instagram Live allows brands to stay engaged with their target audience and easily connect with their community in an authentic way. However, to reach new audiences while staying on Live, consider going live with a business partner, creator or fan and use 'Live With' that prompts a notification to your collaborators' followers. You can also turn on comment moderations as it facilitates a positive community experience. Use questions stickers to know what people want to hear from you, apply these responses to improve your Instagram marketing approach and provide content accordingly.
However, to help its users connect with their followers through Live without any interruptions; Instagram recently extended the live stream time limit to 4 hours from 1 hour.
The usage of Instagram Live has skyrocketed 70% during the peak of COVID-19 pandemic, because, during this time, we have witnessed a huge shift from physical to virtual brand activations, conferences and events. To help creators make more money, Instagram has expanded its feature 'fan badges' in Instagram Live.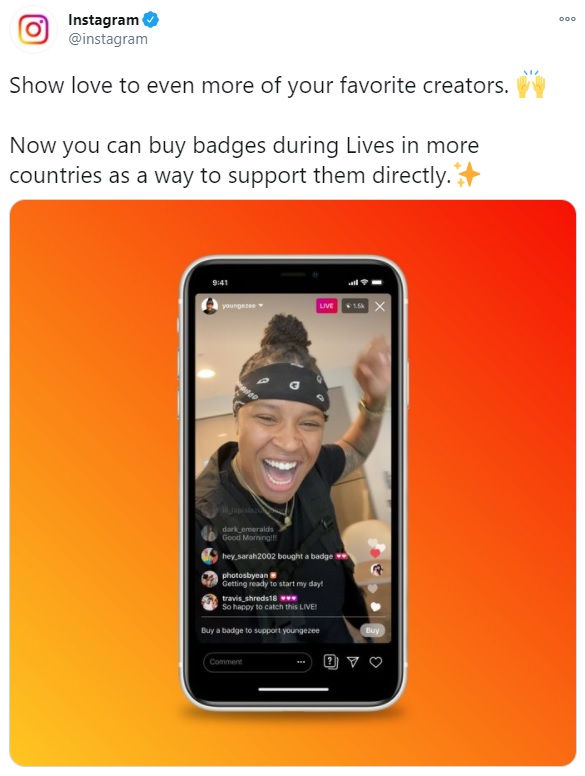 Even if the world opens up again – in-store events would be on hold for the time being – it's predicted that virtual events and brand activations are here to stay and therefore the popularity of Instagram Live is also assumed to rise in 2021. 
3. In-App Shopping To Become a Digital Storefront for Brands & Creators 
Last year we saw Instagram step up their platform to a digital storefront that focuses more on e-commerce tools. The platform introduced Instagram Shop, a new way for people to discover and buy products they love on Instagram without leaving the app. It provides a more streamlined way to discover shoppable products, giving users the ability to "Browse Shops", see "Editors' Picks", and more, all in one place. It is reported that 70% of shopping enthusiasts turn to Instagram for product discovery.
Especially after the pandemic, Instagram focusing on e-commerce tools has increased a lot. This is because, due to the pandemic, many small businesses are looking to bring their business online, as they are struggling and forced to close their stores. With in-app shopping, Instagram aims to make shopping seamless and empower anyone from a small business owner to a global brand to use their apps that help them to connect with their audiences. Some of the e-commerce tools and updates rolled out by Instagram includes:
1. Shoppable posts
2. Stories stickers
3. Shopping from Creators
4. Instagram Shopping expanding on IGTV, Feed and Stories
5. Instagram Checkout
6. Live Shopping
Recently, Instagram rolled out a shoppable Reels update, which helps businesses and creators tag their products when they create Reels, allowing users to buy, save, or just learn more about the featured products while viewing an Instagram Reel.
As e-commerce businesses can benefit from the shopping features that tap into people's existing behaviors and turn your business's Instagram account into a shoppable storefront, make sure to highlight your products in shopping tags, stories and in feeds to make it easy for people to learn more.
 It's predicted that in 2021, more shopping features will be rolled out and Instagram will turn out into a one-stop-shop for everything.
4. Use of Branded AR Filters
Used by more than 1 billion people  -since it went public -,  Branded Augmented Reality (AR) filters – social media's version of AR – is predicted to go mainstream on Instagram.
More and more brands are trying to use these filters to engage and entertain their customers on Instagram, and at the same time, it also delivers powerful brand messaging.
Instagram Stories that were using AR filters for more than 3 years has now taken this feature to the next level with face filters. With the new update, you can create unique filters that are right for your brand.
However, to help shoppers preview how different products will look on their faces before they buy them, Instagram recently announced an augmented reality try-on feature. Initially, dedicated to the cosmetics brands that sell their products on Instagram, this feature will become available for more products over time.

5. Carousel Posts Continues To Go Trending
Carousel posts refer to posts with multiple pictures, videos or a combination of both, that can be viewed by swiping or clicking left. One of the most engaging formats on social media right now, Carousel posts are definitely not going anywhere in 2021. Nearly 1 in 5 Instagram posts today's are published as carousel posts and there are increased possibilities that this feature will become Instagram's main form of organic content soon.
Businesses can use this Carousel feature for product launch, as they are easily shareable and can add up to 10 images or videos as a single post on the feed. It also visually showcases the benefits of your product to your target audience. However,
On average, Instagram carousel posts get 1.4x more reach and 3.1x more engagement than regular posts on Instagram, which clearly indicates that Carousel posts are one of the growth hacks of Instagram.   
6. Get on the Explore Page
Explore page – made up of photos, videos, Stories and products that are tailored for each user based on "the people you follow or the posts you like – keep Instagram users engaged while browsing. Getting featured in this page will improve your businesses' online presence, because, more than half of Instagram users – that's about 500 million people- check out the Explore page every month. It will also highlight curated topics that the Instagram community will enjoy.
With redesigns and faster navigation, the Explore tab is now made more user-friendly.
So if you want to present your content to a vast community, get featured on the Instagram Explore Page and for that, brands must provide high-quality content that engages readers.
7. Make More Revenue with IGTV, As It Is Still Alive 
Though on initial days of IGTV (Instagram TV), it was a bit confusing on how it was performing or what it would bring to marketers' Instagram strategy. However, after a few changes and updates to the Instagram platform as a whole, IGTV takes the center stage and it will likely continue to rise in importance throughout 2021.
According to Social Media Today, Instagram now allows users to start making money from IGTV with the use of ads, which makes it both more attractive for content creators to start producing longer videos for IGTV and try to make revenue off the ad opportunities, as well as for brands to get their names in front of wide audience to boost awareness.
Reports say that IGTV content creators are getting the same percentage of the ad revenue as YouTubers, which could boost Instagram into a potential competitor. More IGTV expansions and features are expected to be rolled out over the months.
Hope these 7 trends help you to prepare better for marketing your brand or business on Instagram in future.