Instagram Expands 'Fan Badge' Testing For Live Videos in More Countries
November 6, 2020
Article Overview
10min read
To let creators make more money, Facebook-owned Instagram is expanding its feature 'fan badges' in Instagram Live. The company is now rolling out these badges to a group of more than 50,000 creators, who will be able to offer their fans the ability to purchase badges during their live videos in order to extend support to them. Fans who bought these badges would be able to stand out in the comments and also can show their support for their favorite creators.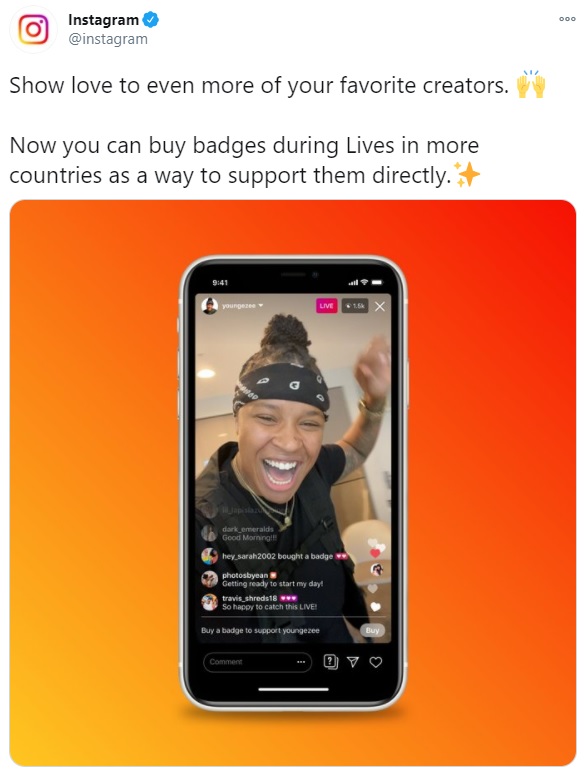 Instagram Live 'Fan Badges'
During the Covid-19 pandemic crisis, Instagram has witnessed people supporting their favorite creators on Instagram Live with comments, likes, and contributions. To give fans another way to participate and show their love, they rolled out fan badges that allowed fans to purchase during a live video.
Since the start of lockdown, with millions of creators and fans stuck at home while live events are being canceled, Instagram Live has skyrocketed. It was reported that Instagram Live creators saw a 70% increase in views from February to March 2020. With this badge, Instagram Live has helped creators stay connected to their followers and brings people together. It also lets creators generate income from the content they're already creating.
The idea to monetize using fan badges was not first implemented by Instagram, rather it was first seen on other live streaming platforms, such as Twitch and YouTube. Similarly, Facebook Live also allows fans to buy stars on live videos, as a virtual tipping mechanism.
Badges appear at the bottom of the comments, that is, next to a person's name throughout the live video. Users could receive a badge in exchange for a fee of $0.99, $1.99, or $4.99, which could be paid via the Google Play Store and Apple App Store. However, a user can only purchase one badge per live broadcast.
Once the badge is purchased it will appear next to all the user's comments along with a special heart emoji which will also appear within the Instagram live broadcast. In fact, the different prices represent different tier levels, that is, badges starting for $.99 are for one heart, $1.99 for two hearts, and $4.99 for three hearts.
This feature lets users show off exactly how much they've contributed to their favorite Instagrammer. The creator will also be able to see that a user has bought a badge in a list along with others, making it easier for them to quickly notice which fans are supporting their efforts, and can give them a shout-out if desired.
However, fans who have purchased badges in Live will not only stand out in the comments for their creators, they will also unlock additional features, including placement on a creator's list of badge holders and access to a special heart, says Instagram in an official blog post.
First rolled out to a limited number of creators and businesses this past May in few countries – such as the US, Brazil, UK, Germany, France, Italy, Turkey, Spain, and Mexico. Instagram now has expanded fan badges to more than 50,000 creators to allow them to earn money from the support of their fans. Though that's still a small number of people compared to the entire user base of Instagram, it's showing a positive sign that Live fan badges will eventually be rolled out to even more creators.
TechCrunch reported that the company will temporarily match creator earnings from badge purchases during live videos, starting in November. They will also not take revenue share for the badge purchases from creators at launch, but in the future, as the feature expands to more creators and markets, Instagram will introduce some kind of revenue share. Till then, creators can keep all the money they receive from the badge purchases.
Instagram COO Justin Osofsky says in a statement: "Creators push culture forward. Many of them dedicate their lives to this, and it's so important to us that they have easy ways to make money from their content". She also added that "these are additional steps in our work to make Instagram the single best place for creators to tell their story, grow their audience, and make a living."
In addition to fan badges, Instagram is also expanding its IGTV ads feature to more creators.
IGTV Ads
Introduced this spring, IGTV ads are Instagram's long-form video destination as it allows creators to earn money by including commercials alongside their IGTV videos.
IGTV ads which will be built for mobiles and last up to 15 seconds long, will initially appear when users click to watch IGTV videos from previews in their feed. As per reports, the platform will share a 55% cut of the revenue with creators.
Badges and IGTV ads are not the only steps Instagram has taken to help creators' make money. It has even expanded its shopping feature on the app, and will soon allow users to shop on Reels too. 
Earlier this month, Instagram announced the expansion of IGTV videos with a shopping service, a way for creators to earn more money through the platform. The shoppable IGTV videos let users watch a video and then check out their products with a few taps. It offers creators and influencers a way to more directly monetize their user base on Instagram, while also giving brands a way to sell merchandise to their followers.                                    
All these changes were launched during the pandemic period where people around the world were forced to stay at home and face the cancellation of events, large meetups, concerts, and much more. With the expansion of these features, Instagram lets creators generate revenue on the platform and at the same time gives fans an opportunity to show their support and stay connected to their idols.