An Overview of Social Media Management
May 7, 2020
Article Overview
10min read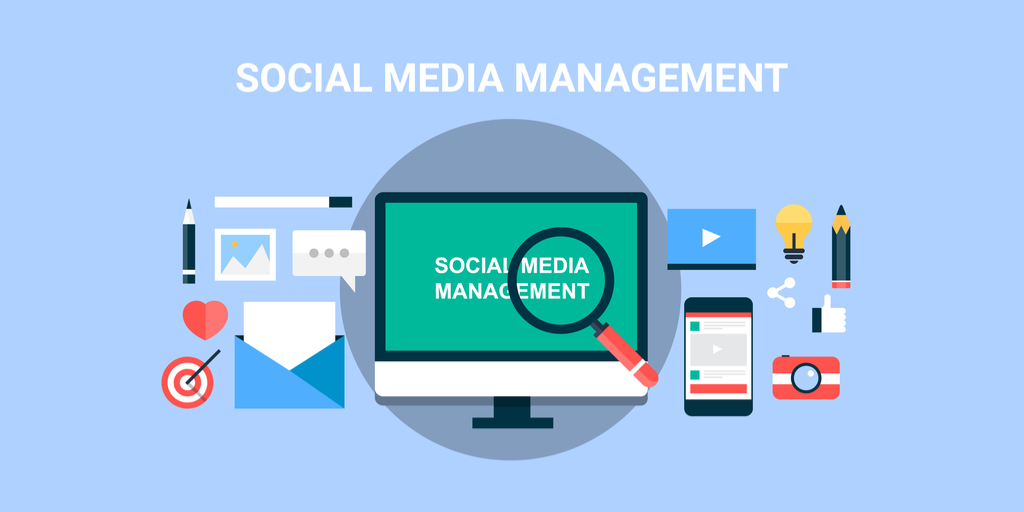 Social media plays an integral part not only in our personal lives but also in the business landscape. In 2020, more than 3.8 billion people are actively using social media. This accounts for almost 60% of the entire population! And if you're looking to provide a boost to your marketing strategy, what better place to start with than social media management?
Social media management is an important pillar of digital marketing. It involves creating, scheduling, analyzing, and engaging using the content posted on all types of social media platforms including Facebook, Twitter, and Instagram. 
If you're wondering how you can take advantage of this technique that can help your brand gain the reach it needs, you can check out our basic guide into the world of social media management. 
What is social media management?
As explained in the introduction, social media involves the process of creating, scheduling, and analyzing a company's social media strategy. This is a vital part of and is linked to other aspects of digital marketing. 
In order to provide a voice to your brand and increase its reach to a local or global audience, it is essential to rely on factual information. Understanding your target audience and their needs and addressing them accordingly will help you devise a clear approach. It also helps give your brand a clear idea of how it will participate on social media platforms to generate the required results, including content publishing, rules of engagement with customers, and so on.
Using the right tools based on your company's needs will help you get an insight into the marketing aspects you would need to consider. In the following, we have listed some of the benefits of social media management. 
What are the benefits of social media management?

Social media has a variety of benefits including giving your company the ability to reach out to millions of customers worldwide. This profitable source is an incredible marketing opportunity. Among many reasons, we have highlighted some of the popular benefits of social media management for your business.
Enhanced brand awareness: Social media can be considered to be one of the most profitable and user-friendly digital marketing platforms. This can help increase your business' visibility. For starters, you must create social media profiles for your business across major platforms and begin networking with others. Using a well-defined social media strategy will help you increase your brand recognition significantly. Researchers have found that by spending only a few hours per week, over 91% of marketers claimed that not only did their social marketing efforts improve but their user experience was also heightened. This among many other reasons proves that having a social media page can help your business reach its targets.
A cost-effective solution: If you are devising an advertising strategy, social media marketing can be considered as one of the most cost-effective ways. Creating an account and signing up is free on almost all social networking platforms. However, if you decide to use paid advertising on these platforms, it is advisable to start small as this will give you an insight into what you can and should expect. This cost-effective solution is important as it helps you gain a better return on investment and leave a bigger budget for other marketing and business payments. By investing some money and time, you will be able to increase your customer conversion rates and drive up the traffic to your website. 
Besides the above-mentioned reasons, social media management can help you save time, understand your audience, create or improve your brand's customer support, and even take control of your brand's reputation.
A platform to engage with your customers: A social media platform is a great way for your business to engage and interact with customers and generate new leads. Maintaining a good relationship with your customers will help you increase the chances of conversions. You will be able to understand and cater to your target audience's needs by setting up a consistent two-way communication platform; this will provide your brand the reach it requires. It is essential to communicate positively with users and find ways to efficiently deal with trolls in order to maintain a stable image in today's competitive market.
Improve brand loyalty: Having a social media presence makes it easier for your customers to find and connect with you. By providing the required content, that is not only attractive but also informative, the probability of retaining customers and gaining their loyalty increases greatly. Customer satisfaction and brand loyalty go hand-in-hand. As mentioned in the previous section, it is important to maintain a good bond with your customers as this will help improve your brand loyalty, and efficiently managing your social media profiles can help you do this. Social media is not just introducing your product but it also helps create promotional campaigns that can drive up sales of your website. Maintaining customer loyalty is quite beneficial for your business in the long run. 
Promote healthier customer satisfaction: As mentioned before, social media platforms help in networking and communicating with your customers and gaining leads. This helps your business come across as being quite approachable. Once you create a social platform for your brand, using a neutral and engaging tone when interacting with customers is quite beneficial. Customers appreciate when they receive personalized replies rather than a computerized reply. It assures your customers that their issue or query is being addressed by someone who can understand what they actually need. This tactic is naturally perceived in a healthier light and promotes healthier customer satisfaction.
Marketplace awareness: One of the reasons why social media management is beneficial for your business is that it provides market awareness. Using the right tools, you will be able to view the activities and hits on your social profile, which will help you observe industry-specific market patterns and note the type of posts that clicks well with your target audience. You can even check the trending topics in your industry and create content accordingly as it will help your social rankings improve. And, once you acquire a larger follower base, you will be able to view the specific demographics pertaining to your audience.
Increase your brand authority: Building brand loyalty and maintaining customer satisfaction plays a major role in enhancing your business' marketing strategies; however, communicating well and consistently is quite vital. When your customers (both existing and possible leads) see your company's social profile frequently posting relevant and original content and personally replying to their queries, it builds a positive brand image. Interacting with your target audience regularly will make your company enhance the chances of conversions, build customer loyalty, and increase your brand authority. When you provide your customers with a personalized experience, they are then prompted to leave a review. This, in turn, enhances your business' image in a positive way and advertises for it. With the required boost for your brand authority using social media management, the traffic to your website will also increase—we explain this in brief in the following section.
Increased traffic to your website: One of the main reasons why social media management is beneficial for your business is that it also helps increase traffic to your website. Understanding the demographics of your target audience and market and providing relevant, original, and high-quality content helps drive up the traffic to your website. Moreover, using the right clickable content can guide users to visit your website or social media profile which can, in turn, increase conversion opportunities.
Enhanced SEO rankings: Having a reliable social media presence is one of the SEO requirements used in calculating a commendable score on the search engine ranking pages (SERPs). Therefore, successfully optimizing your website not just includes updating it and updating your blog. Using a social media platform to promote your brand image with the help of a reliable social media manager or agency will help drive up your SEO rankings. With billions of active social media users, using the right social media strategy and tools can get your brand noticed easily. 
These are some of the popular benefits of using social media management for your business. In the following section, we have listed some factors why businesses should use social media management.
Reasons why businesses should use social media management
There are various reasons why businesses should use social media management. Some of the important ones have been highlighted below:
Efficient monitoring and management: In any typical organization, there are different marketing teams that oversee the entire process of social media management and publications. Although they have to work in tandem in order to generate consistent content that reflects the brand's needs, they tend to work in silos with minimal briefing. Using social media management solutions provide businesses with flexible ways to assign roles and create a content calendar and more. This helps eliminate any ambiguity among social, marketing, and publishing teams. Moreover, you will be able to provide a clear report of your business' social demographics to the upper management or new clients and make any changes to your marketing strategy, if any. Social media management tools can also monitor popular industry-specific keywords and information about your competitors. This can provide the information you need to make strategic business decisions.
Tracking and moderating your posts: Using social media management can help marketing teams track social mentions for the brand, including product promotions and hashtags that can indicate brand performance. You can even monitor keywords and accordingly write content for it; this can help you moderate your website's visibility. Social media management can let you understand your competitor's marketing strategies for conversions. Daily tracking and engagement can help you acquire the relevant information about your customers. This can help you modify your social media marketing plans accordingly and work towards making smarter business decisions.
Creating a content calendar for creating and publishing: Using social media management helps businesses create a well-defined content calendar. Based on industry-specific demographics, using a social media management system will help you streamline the entire content process. You can easily get internal approvals and schedule the publishing calendar across different social networking platforms. Using the right tools can help you understand the needs of your target audience and provide the most effective content which gets published at the right time; this can not only increase the chances of conversion rates and traffic to your website but also generate new leads.
Analyzing your social profiles: Social media helps businesses analyze their customer's buying and social media trends. You can also forecast market patterns for the future and aid in gathering and analyzing data from various customer interactions on social media. The analytics feature that many social media management tools have can monitor engagement metrics and website activities which can help you understand the content types, time frame, and days that they can acquire the most customer engagement. Such analytics tools, which are essential for social media management, can enable you to access detailed reports for posts or campaigns that have revenue-generating potential.
Social media management is a key element in social collaboration. There are billions of active social media users. Using social media management can enable businesses to achieve a faster response time and round-the-clock support that can provide a rich customer experience. It is important to know your audience and format your website for various social platforms and screen sizes (mobile, tablet, computer, etc.). Creating relevant posts and even promotional and engaging content can build brand awareness and lead to loyal customers and increased web traffic. This cost-effective option can be more effective as compared to other, costlier advertising options. Moreover, it can generate a higher return on investment as well.
How much do social media management services cost?
Social media platforms are extremely effective for digital marketing. Social media management tools help connect with current and potential customers; this can encourage your audience to purchase your products and avail your services. When creating a social media marketing strategy, it is important to know how much it could cost as it will help plan your company's budget for advertising. 
On average, most companies spend anywhere between $4,000 to $7,000 per month which generally includes a monthly ad budget as well as a custom marketing and advertising strategy for one or more networks. This accounts for around 13% of marketing budgets. When choosing a reliable social media management agency, the quantity and quality of service they provide should be the main factor. However, it is important to note that the price range differs depending on the agency you choose and a wide range of factors such as the following:
The plan you choose and the services you require

The size of your company

The platforms you want to share your content on

The level of analytics you need

Whether you need customer service through social media
Since it can vary greatly, you must always make it imperative to get a customized quote before you make a choice.
Popular social media management tools
In the following, we have listed some of the popular social media management tools, in no particular order. 
Hootsuite offers an all-in-one platform for social media management across multiple websites. They provide a search and filter through existing social media platforms in order to find brand mentions, demographic information, and insights. With 4 types of plans, with the
Professional
and
Team
bundles offering a 30-day free trial, you can avail features such as:
Scheduling posts from multiple profiles across multiple sites:

This allows you to properly time your marketing campaigns.
Analytics feature:

This can help you track and measure your brand's social media performance against key performance indicators that you set. 
Customizable reports:

You can even customize your reports so that you can ensure the required data is reflected and you remain focused on it.
There are other features as well that makes Hootsuite a great choice not only for individuals but also for teams. Hootsuite also features a number of integrations such as Slack, Mailchimp, Trello, Zendesk, and Asana; this ensures enhanced productivity pertaining to social media marketing and communication campaigns. You can request for a demo for the Business and Enterprise plans.
Sprout Social is a hub for managing a wide range of social media platforms. It is a one-stop-shop for scheduling and controlling all of your social accounts through one user-friendly website. This can prove to be quite beneficial for your company's social media administrator when they are trying to juggle multiple sites.
Sprout Social is a powerful tool for analyzing your data as well. It enables you to sort various demographic and geographic measures to understand what type of content works for which followers. Sprout Social can help manage multiple accounts and track keywords across all social media sites so you always know when your brand is being followed. You can also respond to customers by directing messages to the respective people who need to address them.
You can explore its features for free with its 30-day trial. The plans start at around $99 per user per month. 
Buffer is another great platform that lets you post to your social platforms and then analyze its results in real-time. One of the major benefits is its simple, flexible, and user-friendly interface. Once you sign up, you can click on the
Top Post
icon to compare different forms of content to check which type works best for each social platform. It also offers a
Google Analytics
integration that will help you track the success of your marketing campaigns. 
You can explore its features using the 14-day free trial that Buffer offers; however, the pricing for the plans start at around $15 per month.
Hubspot Social Media Software has a variety of social media management tools available under the
Marketing Hub™
. It helps you save time by helping you prioritize social connections across a range of social media platforms. 
For publishing and sharing content, there are a number of management features available. They also provide reports that include information about the levels of social engagement and much more.
Along with free tools and CRM, the Hubspot Social Media Software offers plans under the Marketing, Sales, Service, and CMS Hubs. They offer Bundles as well. The plans start at around $50 per month.

Zoho Social offers a simple way to help manage your brand's presence on social media with a user-friendly social media management platform. Along with managing multiple social media platforms, Zoho Social provides a posting calendar feature so that you will stay on top of the posts that have been scheduled for posting. It also helps you track your target keywords that help your team to work in tandem from a single dashboard.
Zoho Social also offers a specific version for the needs of marketing agencies. Moreover, you can also integrate Zoho Social with other tools by Zoho such as Office, Analytics, and CRM.
Other social media management tools to consider
Social media plays an important rule in today's technology-driven world. Businesses can benefit greatly as it aids in monitoring their presence and managing their engagement with their target audience. Here are some more tools that can help manage your social media profiles: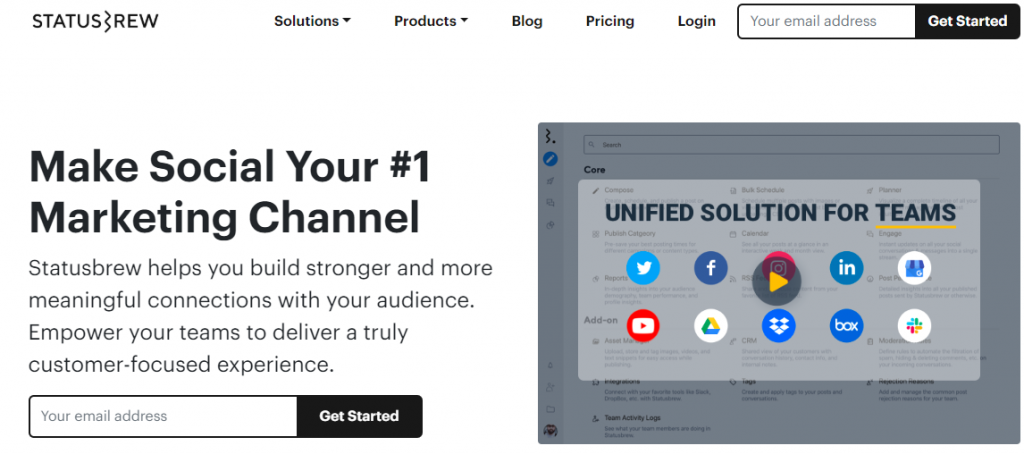 Statusbrew is a social media management platform that can be used across the marketing, customer care, and sales teams. Along with campaign management, Statusbrew offers reporting and analytic features that can help you keep track of your overall brand health. Moreover, there are a number of popular integrations available including
Slack
,
Mailchimp
,
Shopify
, and
Zendesk
. 
This is an essential
Twitter
management tool that is used by many of its users.
Offered directly by the social media giant, it not only allows you to filter messages from followers but also provides a dashboard that can help you monitor
Tweets
, messages, notifications, and trending hashtags. TweetDeck also offers search tips and shortcuts to manage your monitored content.
This application is available for
Android
and
iOS
that allows you to manage your
Facebook
pages on-the-go from your phone or other mobile devices. It allows you to get notifications, read and reply to messages, and also link
Facebook
and
Instagram
accounts together. Moreover, the Facebook Pages Manager offers management features including settings, performance, and track your brand's reach.
Brandwatch provides information that could help you analyze your competitors' strategies from companies and sources like
Facebook
,
Twitter
, blogs, forums, news, and so on. It also conducts a social sentiment analysis that shows the tone of the data collected from the profiles you have connected with. This can aid in creating content based on the trends emerging over the internet.
If you are a newbie to social media marketing, using the right tools and the advice and services of a reliable social media management agency can be a great way to get started. With comprehensive and simple interfaces, you can manage your marketing campaigns more efficiently. Social media management is a comparatively affordable digital marketing technique. You should ensure to do your research well before choosing the right tool and fixing a marketing budget for your business' needs.