LinkedIn Launches Major Redesign With New Features
October 23, 2020
Article Overview
10min read
LinkedIn, the Microsoft-owned company that has built its popular businesses largely around recruitment is rolling out a major redesign to its platform with new features that would allow for easier navigation and a better user experience. Since four years after its last major redesign, LinkedIn has gone for a brand new look and feel for its both desktop and mobile apps.
They have evolved from a platform that creates and searches professional profiles online to an active community of more than 700 million professionals worldwide that do much more. LinkedIn is witnessing a 50% increase in the content shared year-over-year among its members and last year alone, nearly five billion connections were made across the platform.
Despite the tough economy due to COVID-19, every day on LinkedIn, at least 3 people are hired every minute through the community.
The New Refreshed LinkedIn
With new signups and engagement growing at unprecedented rates, the LinkedIn CEO, Ryan Roslansky announces the redesigning of LinkedIn. He says that with the new look and feel, it would make your LinkedIn experience easy, inclusive, enjoyable, and most importantly foster human connections.
Powering its 700 million-strong community, LinkedIn introduces this refreshed design with a few new features such as:
LinkedIn Stories

Video Meeting

An Improved Search Experience

Open to Work

Update to Messaging Feature
Let's check out each feature in detail:
LinkedIn Stories
LinkedIn is rolling out its own version of Stories — the most popular, short video and photo portrayal that has become a major engagement feature on Snapchat, Instagram, and Facebook.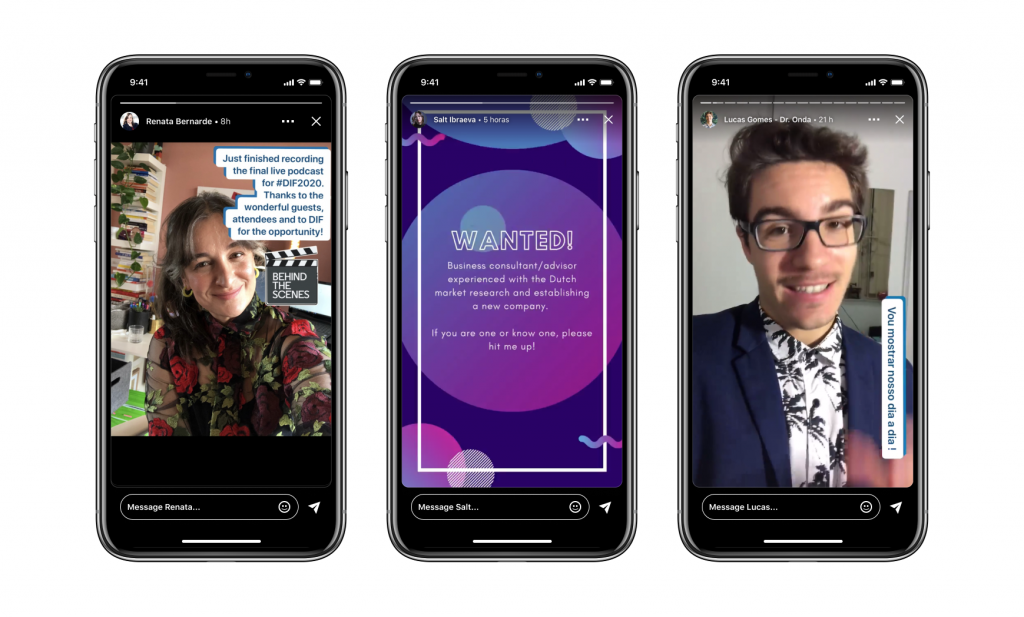 This feature lets users share what's happening in their professional life in a more humanized and lightweight way, without worrying that the content would permanently be attached to their profiles as the stories will only last for 24 hours.
Though LinkedIn's version of Stories is somewhat similar to the Stories feature of other platforms, they offer some unique features from others. That is, rather than simply clicking a photo or recording a video of a quick moment from the workday, LinkedIn wants its stories to spark conversations among users. To accomplish that, LinkedIn is integrating a few unique tools to its Stories feature. The tools are:
Question of the Day

: LinkedIn will pose a question of the day to all users – such as what they're working on or how they're recharging their day off – and they will be able to respond back with a story. This feature will help to start a conversation with LinkedIn users.

Localized Stickers

: Users can add unique stickers – assigned for each region – to their stories. These stickers are intended to serve as original representations of the country's own professional and personal life.
Users can post a story by touching the circle with their photo on the LinkedIn app – similar to the Instagram Stories feature – and then open the camera by tapping on the plus sign on the top left corner of the app. They can record a video of up to 20 seconds, click a photo directly through the app, or upload it from the gallery. They can also choose to add text and/ or stickers or tag other users in their stories.
Currently, the Stories feature will only be rolling out to users in the United States, Canada, Australia, Brazil, France, Netherlands, and UAE. But soon, this feature will be rolling out to members globally too.
Video Meeting
Now, with one click you can switch your conversation from chat to face-to-face by creating or starting a video meeting using Microsoft Teams, BlueJeans by Verizon, or Zoom.
To create a video meeting, you have to click on the video call option next to the text box where you type in a message. Then you can choose from the available apps for a video call, sign in, and share a link, or even schedule the video meeting for later.
An Improved Search Experience
With LinkedIn's major overhaul, its search experience also gets completely relaunched and streamlined. The company notes that there's much more content to be found across LinkedIn other than just people and jobs. That is, with the new and improved search experiences, users can now search for relevant groups, events, and content on LinkedIn. 
With a 50% increase in content creation over the past year, LinkedIn members are posting more status updates, articles, and videos and all this content can now be found with one streamlined search experience. Ryan Roslansky said in the official statement that, "A new, streamlined search experience will make it much easier to surface the people, events, groups, and content you want while helping you reach beyond your immediate network — when there is value in doing so."
Along with improved search experiences, the new redesign is also aimed at making LinkedIn more inclusive and engaging. The company will also be adding a dark mode option soon. New illustrations that showcase people with different abilities, diverse backgrounds and ethnicities, and a wide range of jobs and industries were also added by LinkedIn as they want everyone to be able to see themselves and feel welcomed.
Open to Work
Prior to the new redesign, the company launched a simple LinkedIn profile photo frame "Open to Work". This user frame lets recruiters know that a particular user is available or looking for job opportunities.
LinkedIn notes that from airline pilots to data analysts, nearly 2.5 million members have adopted the "Open to Work" frame and from the early results it is witnessed that members with this photo frame are getting 40% more Inmails from recruiters and 20% more messages from the LinkedIn community.
New Updates to LinkedIn Messaging
The Microsoft-owned platform introduced a variety of new messaging features. The number of private messages sent between LinkedIn members has more than quadrupled over the past five years and they want to continue this momentum. The new messaging features are:
The ability to edit and delete messages after they have been sent.

Quickly reacting to a message or Story with an emoji.

Manage messages in bulk by selecting multiple conversations at a time to archive, delete, or mark them as read/unread.

Able to add new users to an existing conversation, while keeping the original conversation history private.

Enhanced tools for reporting that helps users to flag incendiary and inappropriate messages.
Microsoft's LinkedIn is no longer just a place to just find people or jobs; rather it's a platform for personal and professional development. A place of business development, a place of economic development, and a place that makes a difference in professional lives.
LinkedIn, when used correctly, can help your business grow. If you are unsure of how to do that, you can always reach out to experts to do it for you.
It's a community where you can be inspired, build relationships, and discover unexpected opportunities. With the new site designs, LinkedIn is already witnessing record numbers of members turning to the platform to share their stories, get support, and also help others find their paths to success.