LinkedIn Introduces Three New Features for Company Pages
September 12, 2020
Article Overview
10min read
Social media plays a huge role in the world we live in today as it dominates conversation and influences the way we do marketing these days. Yet, while most social media platforms are designed to create engagement built around fun and entertainment, there's one that's used strictly for business and career seekers: LinkedIn. With 675 million users and 30 million companies on LinkedIn, it's an incredible platform for connecting job seekers with recruiters. Its several features, including recommendations and endorsements, targeted searches, and many more, make it a favorite among professionals. Recently, the platform added three new features – 'See All Followers', 'My Company', and 'Events' to company pages in an effort to allow businesses to stay connected with their communities.
LinkedIn's New Company Features
LinkedIn's new features are introduced in order to address the challenges posed by the current pandemic and the resulting increase in remote working. According to a LinkedIn report, they're designed to strengthen connections, which are weakening as people feel less connected to one another.
According to the report, 31% of employees report feeling less connected to leaders, 37% of employees report experiencing less connected to teammates, and 40% of employees say they're less connected to their own friends.
However, with a growing number of businesses announcing that their employees are required to work remotely until 2021, it's more important than ever for businesses to take necessary action and ensure that their employees will thrive in a remote work environment. So, in order to build a stronger connection between businesses and their communities, the professional social networking app expanded its features.
Let's know more about the three features:
'See All Followers'
The 'See All Followers' feature lets companies view their followers, not just in terms of numbers but their actual followers. In the past, admins could only view an aggregate number of followers and their general demographics. But now, with expanded features, companies can view their individual followers and their publicly available information, which helps with transparency and better communication over the platform. It also helps companies understand their audience and share the right content.
LinkedIn Pages can also be able to sort their list of followers by certain attributes – such as current company, industry, and location.
'My Company'
The 'My Company' tab lets employees of a company engage with one another and remain connected while working remotely. The tab includes new features like:
1. Highlighting employee milestones such as promotions, anniversaries, new hires and more.
2. Trending coworker content.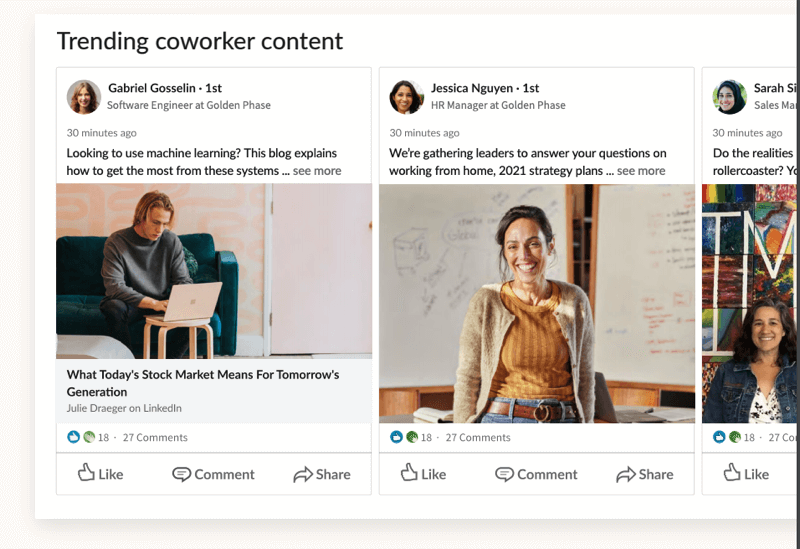 3. Suggest employees with contact recommendations to connect with people they may know at their company.
Few other features will also be added to the "My Company" tab at a later date.
NOTE: This particular feature is currently available only to companies that have over 201 employees.
'Events'
The third feature, 'Events', lets companies keep track of past, present and upcoming events on LinkedIn, especially virtual ones in this current situation. As virtual events are not as easy to discover, the new 'Events' tab was added to address this challenge. It makes it easy to manage said events and let people stay up-to-date.
A virtual event is not just an entire conference; it can also be an individual panel or webinar.
The Events tab will appear on the left-hand navigation of the brand's page, making them accessible to followers and visitors.
All these added features help page admins connect their employees, highlight upcoming events of a business, and gain new insights about their brand's followers.
Today, it is increasingly important for individuals and companies alike to strengthen their connections to create a more solid, harmonious professional space. With the pandemic continuing and the future as yet uncertain, platforms such as LinkedIn and the new features they roll out act as welcome bridges to strengthening vital ties. We can expect more features as the company continues to strengthen its reputation as one of the most trusted networks for professionals across the world.