Google Maps Rolls Out 4 New Features For Businesses And Searchers
December 23, 2020
Search Engine Optimization
Article Overview
10min read
To make Google Maps more focused on community engagement, the internet search giant Google is updating the app with four new features – messaging capabilities on Maps and Search, updated performance insights for businesses, community feed and connected photos tool in street view app. These new features improve the experience for searchers as well as businesses who use the platform to reach their potential customers directly.
Let's check out each new feature and how is it useful for users and businesses:
Messaging Capabilities on Maps and Search
Google is rolling out messaging capabilities to Maps and Search to facilitate easier communication between businesses and searchers.
The search giant, who is always looking for ways to provide internet users with the information they need as quickly as possible, have found that people browsing nearby businesses often have queries that require to be answered in a very timely manner. However, Google My Business profiles will often help businesses to share information like their location, how late they are open and what COVID-19 safety measures are in place, but sometimes it's not possible to get answers for people who are looking for more niche questions such as: "Do you make gluten-free cakes?" or "Is there covered parking?" and so on. As more people try to make more informed decisions before leaving the house, Google witnessed a boost in the number of messages sent to businesses. Especially this year, internet users have initiated more than twice as many messages to businesses right from Maps and Search's Business Profiles.
So, to give potential customers all of the details they require, Google decided to provide more messaging capabilities for internet users and the businesses they're interested in shopping with. This ability is only available to verified businesses, who will now be able to direct messages with customers through the Google Maps app. 
The messages from users will appear in the business messages section in the updates tab. You can turn on or off the messaging option from the settings panel of the Maps and Google My Business apps.
Soon, Google will be adding the ability for businesses to see and respond to users directly on the desktop from Google Search (via the Customers menu on your Business Profile). Now, with an update to Google Posts, users can utilize business messaging from search results. Therefore, besides clicking on the Message button on the business profile, customers will be able to start a conversation with the business owners from any post they created in Google My Business.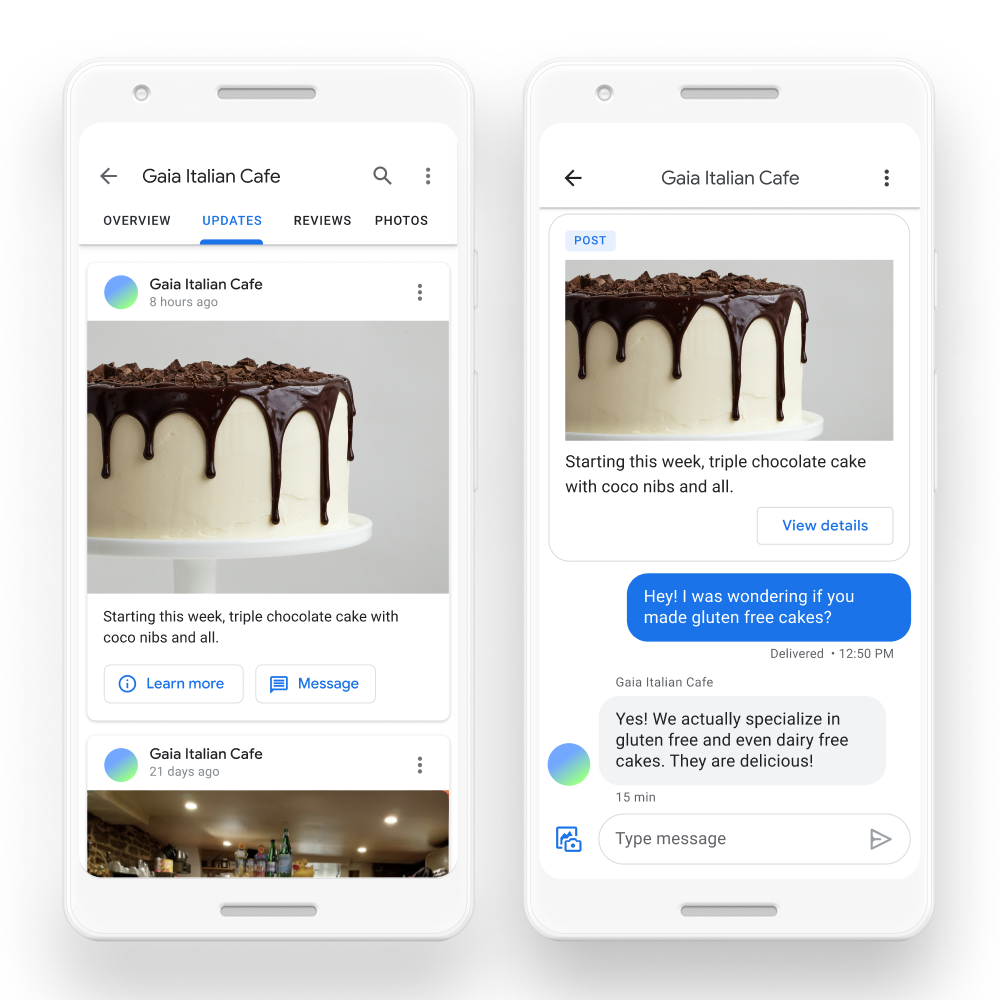 Updated Performance Insights For Businesses
Google is rolling out more metrics to the new summer launched performance insights on Search and Maps. This business-focused update helps to give business owners a detailed report of their customer interactions. It tracks how well a business is performing by measuring the number of customer engagements – such as the total number of interactions over a period of time and categorization of calls and messages initiated from users on Google.
With this update, business owners would get a deeper understanding of how users discover their Business Profile like a detailed list of the search queries customers used to find a business on Google. Metrics would be provided on a monthly basis and all your performance data will be available for up to six months.
At the beginning of 2021, business owners can compare these metrics with the previous year. They would be able to see the updates to the performance page that will show whether users saw their business via Google Maps or Search and if they saw it from a computer or mobile device.
Updated performance insights help to dig into the numbers to show how your business is performing over time and how your Business Profile reverberates with customers.
With messaging features, the updated performance insights make Google Maps' evolution from a directions app to a search-and-answer engine for businesses and searchers.
Community Feed
As every day, people submit more than 20 million contributions to Google Maps — including recommendations for their favorite spots, fresh reviews and ratings, updates to business services and more- it can be hard to keep up with changes that are happening around your city and neighborhood. Therefore, to make it easier for users to find the latest updates and recommendations from trusted local sources, Google launches a new community feed in the Explore tab of Google Maps. This new feed – which is rolled out globally for everyone on Android and iOS – will show users the latest reviews, photos and posts added to Google Maps by local experts and people you follow, business serving food and drink, and articles from publishers like The Infatuation. 
Keep your business listing regularly updated, especially if you're in the food & drink industry, because, the more often you publish a post or add other types of content to your profile, the more often you may show up in users community feed. Though it's similar to YELP, community feed in Google Maps will be available directly in the app.
Connected Photos Feature In Street View App
Google Maps is pilot testing a new feature – Connected Photos. It will let people record a series of connected images while they move down a street or path and can contribute those images to the Street View app. Without the need of any fancy equipment, anyone – Android users with ARCore-compatible devices – can create their own connected Street View photos, letting them reach better maps to more people around the world, capturing places that aren't on Google Maps or that have seen a hasty transformation. Once the footage is recorded and published with the Street View app, Google will automatically rotate, position, and put the sequence of images together.
Allowing the Street View connected photos beta feature initially in Toronto, New York, Austin, Nigeria, Indonesia, and Costa Rica, Google will use this user-generated content when it doesn't have its own Street View imagery available. In near future, more regions will support this feature too.
Released in 2005, Maps – the web mapping service developed by Google – is perfectly positioned to become the next big content platform, empowering millions of content creators, developers and businesses in the process. With its massive reach, the new updates will make it easier for business owners to grow their business in today's ever-changing environment and bolster their presence on Google.