Google Ads Announced New Enhancements to Lead Form Extensions
January 3, 2021
Article Overview
10min read
Google Ads rolls out three new enhancements to their Lead Form Extensions. Though people are still adjusting to the current COVID-19 pandemic, they continue to look for different ways to connect with businesses. In fact, according to Google research, 1 in 3 shoppers would rather buy from a company that offers a wide range of ways to reach them. With the new announced Lead Form extension features, Google aims to help businesses connect with more potential customers. It will also help streamline and add better controls for advertisers and at the same time will create a lot more efficiency in creation and management leads.
Lead Form Extensions
Introduced back in August 2020, Google lead form extension is focused on driving more high-quality leads by allowing users to submit their information across Search, YouTube, Discovery and Display Ads inventory. It helps to capture interest when potential customers are searching for a company, products, or services on Google. This fast, mobile-optimized experience makes form submission easy and purges the extra step of navigating to a business mobile site lead form.
Though many marketers were happy to see this new feature, the execution still had a few things making it less than ideal. With the latest announcement, it is expected that the new enhancements would address at least two of these issues and will help businesses make lead form extensions easier to manage and more effective.
New Improvements to Lead Form Extensions
1. Easily Share Your Lead Forms: Managing lead form extensions has always been a challenging task for marketers, especially when using them across campaign types. So, to make it easier and to save time, Google has now made lead form extensions easily shareable across Search, YouTube, and Discovery campaigns.
In the "Extensions" page of Google Ads, the Lead Form Extensions for YouTube and Discovery campaigns are now available.
Once you click the lead form extension tab, the screen directs advertisers to create the form, submission message, and ad copy.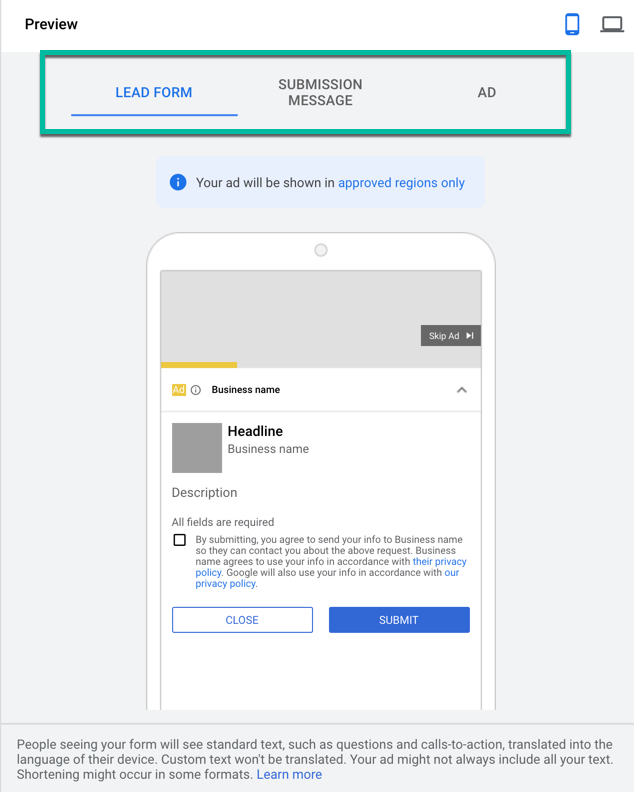 2. Customize Lead Forms with More Question Options: In addition to the easily shareable feature, Google now allows advertisers to choose from over fifty pre-made questions to customize lead forms to their business needs. It will help to route submissions to the right sales team or add the user to the correct email list. 
For instance, if an advertiser wants to drive qualified leads for their car dealership, they can now ask questions like "Which type of vehicle are you interested in?" or "When do you plan on purchasing a vehicle?"
3. Automatic Lead Receival: If someone requests information about your business, it's very important to follow up on that lead in a timely fashion to close the sale. But one of the previous drawbacks to Lead Forms were actually getting the sign-ups, that is advertisers would have to download them manually into a file, save it, and then upload it to their email service provider. This process takes up too much of time, which causes delays in things like a sales member reaching out, or an email automation sequence kicking off. This in turn will cause a lack of engaged leads or higher-than-usual unsubscribe rates.
However, by setting up webhook integration, you could fix this issue, as it will allow automatically sending leads from lead form extensions to your customer relationship management (CRM) system. But this could be a challenge especially if only limited resources are available. So, to easily connect lead form extensions to your CRM system and get notifications when you receive a lead, Google now has partnered with Zapier. It creates an automated routing to a specific email list, or into a CRM, allowing brands to have more immediate access to the lead submissions. It will also cut out the time delay from handling lead input manually, making it easier for sales to get the lead quickly.
This new enhancement feature can be seen in the Lead Form Extension set up, under the "Call to Action" section, labeled "Lead delivery option":
With all these latest improvements in lead form extensions, Google helps to create an efficient ad campaign by sending new leads directly through your sales funnel. Google is making it very convenient for advertisers to manage, increase their efficiency and convert more potential clients through lead form extensions.