Facebook To Roll Out New Feature 'Vanish Mode' On Messenger And Instagram
December 1, 2020
Article Overview
10min read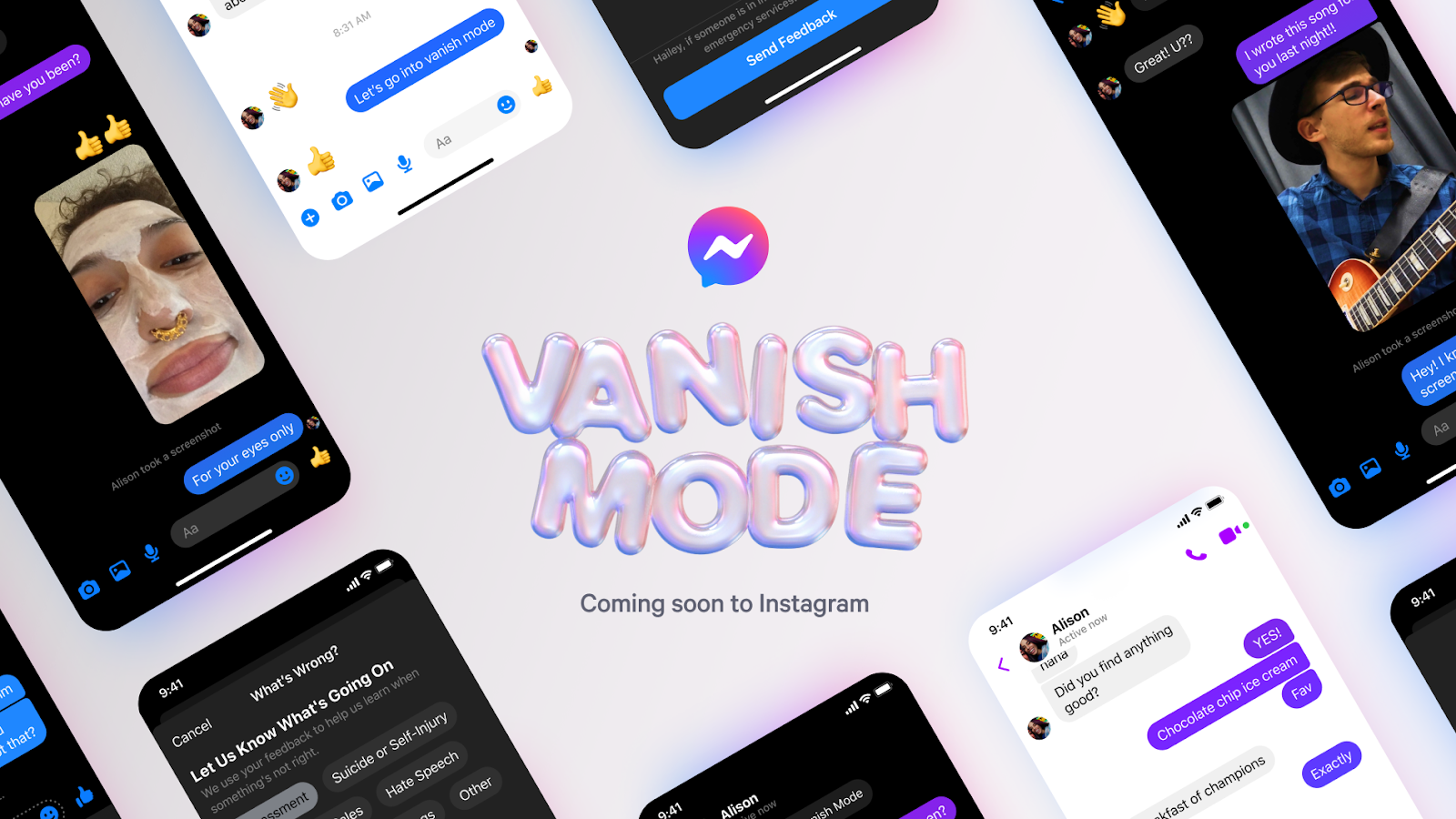 Facebook is rolling out a cool new feature called "Vanish Mode" on Messenger and Instagram. This Snapchat-like feature allows users to send messages that disappear automatically.
Initially announced as part of Facebook's significant September redesign of Messenger, Vanish Mode lets users send texts, photos, voice messages, emojis, GIFs, and stickers that disappear immediately once other parties view them and users can leave the chat. It is a temporary messaging mode for both Facebook Messenger and Instagram.
However, unlike on Snapchat, Facebook's Vanish Mode is not a default setting. Users have to turn the Vanish Mode on by swiping up on their mobile device in an existing chat thread.  To get back to the regular chat, swipe up again.
Safety Matters A Lot!
To allow users to control their experience, Facebook designed Vanish Mode with safety and choice in mind. The company allows only people you're connected to, use Vanish Mode within a chatbox. As it is not a default setting, you can choose whether to enter Vanish Mode with someone or not. It will also notify users if someone takes a screenshot of the conversation — which is the same feature as Snapchat. If you feel unsafe, you can block and report a conversation in Vanish Mode.
Facebook also noted that, if a user in the conversation reports a chat, the disappearing messages will be included for up to 1 hour after they disappear, which allows the company to review the reported conversation and take action if needed.
During the first launch of Vanish Mode, a screen will appear explaining how this mode works- such as giving details about critical features, including more information on blocking and reporting.
Once a user is in Vanish Mode, the screen goes dark to signal the change. To exit this Mode, move to the top of the screen and tap on the "Turn Off Vanish Mode" button.
Although the mode will not hide messages sent by mistake, it can come in handy when you do not want your messages forwarded to or discussed further by other parties, as these vanished messages will not exist in your chat history. To be more precise, Vanish Mode is not designed to cater to those looking to secure an entire conversation. For that, the company already offers secret conversations – a fully end-to-end encrypted conversations feature. While Vanish Mode is also end-to-end encrypted, this mode's primary focus is for chat messages to disappear entirely- which is a popular Snapchat feature.
Suppose you need to get Vanish Mode or any other recent updates on your mobile device. In that case, you have to update to the new Messenger experience, where Facebook is merging Messenger with Instagram Direct Message. This unique integrated experience brings some of the best app features to Instagram, allowing users to access the best experience, no matter which app they use.
Once updated, users can use just one messaging app to reach friends and family on two of the world's largest social networks, and with the new additions like Vanish Mode, users won't miss out on things found on competitor apps.
Currently, Facebook rolls out Vanish Mode on Messenger in the U.S. and a handful of other countries. In the near future, the feature will go live on Instagram too. However, some elements of Vanish Mode are already part of the core direct messaging feature set on Instagram.