Facebook Expands Messenger App's Screen Sharing Capability
July 27, 2020
Article Overview
10min read
On July 16, 2020, Facebook announced that they are expanding Messenger's app screen sharing capability in video calls and Facebook's new video chat platform, Messenger Rooms for iOS and Android mobile devices. Users can now share their screen with friends and family one-on-one or in a group video call with up to eight people and up to 16 people in messenger rooms.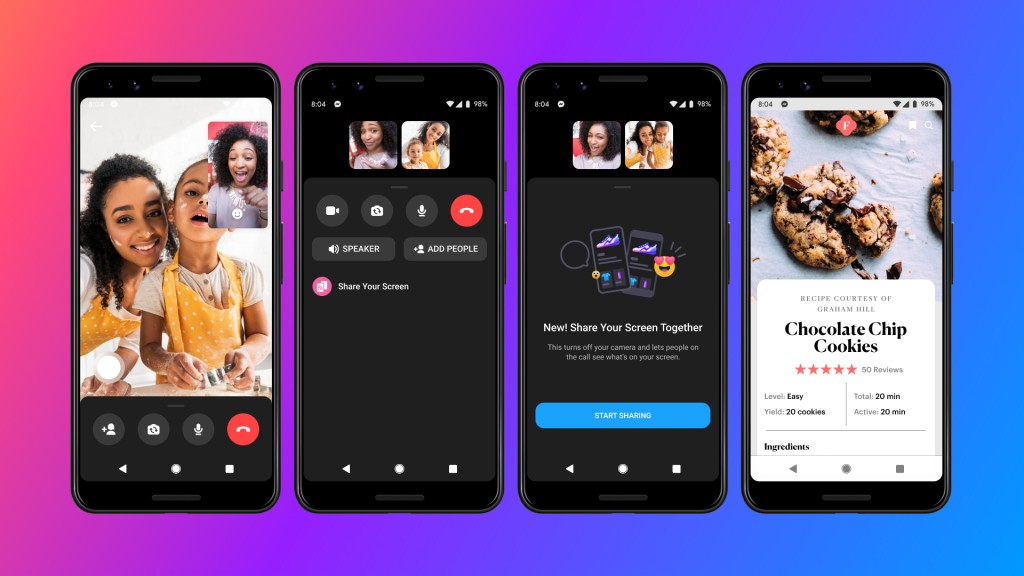 Facebook rolled out this feature in its chat platform as they understand that people are trying to stay connected more than ever and screen sharing helps to bring people closer together. Adding the feature to both Messenger video calls and Messenger Rooms, helps Facebook better compete with popular services like Zoom, Skype, Google Meet and Microsoft Teams.
What is Screen Sharing?
The new update of Facebook, Screen sharing lets a user share a live view of their screen to other people so that they can share virtually anything together. It makes it easy to stay connected and close with your loved ones, even when you're physically apart by allowing you to share your photos from your camera roll, shop together online with friends or family, surf social media, and more. 
Screen Sharing in Messenger Rooms
Along with screen sharing on mobile and web, the new feature is also available in Messenger Rooms, the latest Facebook's chat platform which is designed specifically for group chats. It allows sharing the screen up to 16 people on the web and desktop.
The company said in its official blog post that they will soon add the ability to control who can share their screen in Rooms and increase the number of people you can share your screen with up to 50 within Messenger Rooms. It helps users who create a Messenger Room to determine whether to limit the ability to screen share to just themselves or make the feature available to a particular participant or to all participants on the call. 
How To Share Your Screen Messenger
Start sharing your screen in Facebook Messenger by following a few steps. They are:
Open Messenger app on your mobile device (iOS or Android)

Start a video call by selecting one or more contacts and tap the camera icon.

Once the call started, swipe up on the toolbar at the bottom (it reveals the call options)

An expanded menu pops up and from there tap 'Share your screen', "start sharing," and then "start broadcast". 
Once you start broadcasting the call with screen sharing, you can navigate as you like on your phone, or return to the call to stop the broadcast. The shared screen or the video chat interface will move to the upper right-hand corner of your phone, so that you'll be still able to see the people (in your call) on camera while you show them what's on your phone.
Other Latest Upgrades to Facebook Messenger
Ever since the global pandemic, COVID-19 made people more dependent on online communications, the social media giant has been steadily upgrading Messenger's capabilities. Along with screen sharing capability, there are some more upgrades made to Facebook Messenger recently that would be more helpful for retailers. They are:
Business Inbox: To Respond Customer Messages
Facebook rolled out a new business inbox in Messenger to help businesses respond to customer messages. This upgrade allows page owners to snap back and forth between personal messages and customer messages. It helps page admins to stay on top of messages without the use of separate apps.
Facebook Messenger Desktop App
Facebook launched the first desktop Messenger app in April 2020 for Windows and MacOS, that offers a number of benefits over a web browser  Messenger. One of the best benefits of the Desktop Messenger app is that it offers unlimited and free video calls.
Initially rolled out on desktop version, the screen sharing feature is now available globally on the latest versions of Messenger's Android and iOS apps.