YouTube Launches Audio Ads To Target Audio Listeners
December 3, 2020
Article Overview
10min read
Aiming to reach music and podcast listeners, YouTube recently announced the launch of audio ads. The company's first ad format without a video component, audio ads is a new type of audio-based ad unit that helps to reach people who use YouTube as their music and podcast player. Currently, in beta, these audio ads help YouTube creators proficiently expand the reach and grow their brand awareness with audio-based creative campaigns as their video campaigns.  
YouTube Audio Ads
As people are spending more time at home, they are increasingly turning to YouTube either to listen to a podcast or to a virtual concert resulting in a growing podcast and music-listening audience. However, to keep up with the different ways users are engaging with the platform, Google's video-streaming platform is now entering uncharted territories with the launch of these new audio ads.
Characterized by a voiceover delivering the message  – while a still image or simple animation is displayed on the screen -, YouTube audio ads are designed for videos where the audience may only be glancing at the screen rarely or might be avoiding the visuals altogether.
Though audio ads may sound like an odd fit for a website that specializes in video, YouTube says users are consuming more audio centric-content, especially these days. This was proved with the alpha testing of audio ads.
In its early testing, YouTube found that more than 75% of measured audio ad campaigns on YouTube drove a considerable lift in brand awareness.
For instance, one of YouTube's early testers, Shutterfly, used audio ads to influence purchase consideration among interested shoppers and the result was a 14% lift in ad recall and a 2% rise in favorability in its target audience.
However, when you're setting up your audio ads campaign, make sure that audio should play the leading role. In an official blog post, Melissa Hsieh Nikolic, Group Product Manager at YouTube Ads said that "Think: If I close my eyes, I can still clearly understand what this ad is about".
So you have to be very clear and specific with your audio message. Choose a friendly, authentic voice to deliver it. If you aren't sure what creative to use, you can use Video experiments to run a test and get results rapidly, that too at no extra cost. 
Audio Ads Availability
The 15-second ads, which were in a limited test phase since late 2019, are available to all advertisers globally via auction on Google Ads and Display & Video 360 on a cost-per-thousand (CPM) basis. Also, same as your YouTube video campaigns, audio campaigns offer advertisers the same audience targeting options, bidding strategies, and Brand Lift measurement capabilities.
The addition of audio ads makes sense, because, for instance, YouTube Music, boomed from 8 million active users in 2017 to more than 77 million actives by the end of 2019. However, that audience has increased even more during this pandemic. Also, with people looking to turn into lectures, interviews and more in audio-only mode, using YouTube's existing ad targeting, could help businesses connect with more interested audiences.  
In a separate blog post, Lyor Cohen, YouTube's Head of Music describes why advertisers should see YouTube as an essential music streaming platform. According to him, music is more front and center than we all might think. That is, statistics show 2 billion logged-in viewers are watching at least one music video each month and 60% of YouTube's music viewing happens on mobile, where background viewing/listening is disabled. 
He continues saying that regardless of when and how people are tuning in, the company has ways to help advertisers connect, even when they're consuming music in the background. Especially with the newly announced audio ads, advertisers can complement the moments their consumers are watching, by engaging them in moments when they're listening.
Along with the audio ads, YouTube is also launching dynamic music lineups that allow marketers to target their campaigns at collections of music channels on YouTube.
Dynamic Music Lineups
In addition to audio ads, YouTube also announced the launch of dynamic music lineups. This is a dedicated group of music-focused channels across popular genres such as Latin music, K-pop, hip-hop, and Top 100.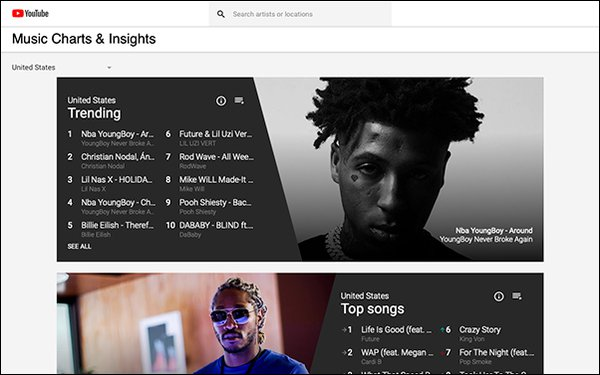 Along with popular genres, this group will also cover moods or interests like fitness allowing its users to easily reach music fans globally and drive results for your business.
With the use of audio ads – can also use both video and audio ads together – and dynamic music lineups, you can reach more listeners, consuming content they love, with the ad format that's well suited for their unique YouTube experience.