Snapchat Releases More Ads Certification Courses
December 2, 2020
Article Overview
10min read
Snapchat, the multimedia messaging app is introducing new advertising certification courses to its marketer education platform. Housed under the umbrella 'Snap Connect', this series of free certifications courses allows marketers to learn directly from Snapchat's advertising experts.
The company explains that this is the first time that Snapchat's own subject-matter experts bring users inside the world of its platform to show how to take their direct-response advertising to the next level.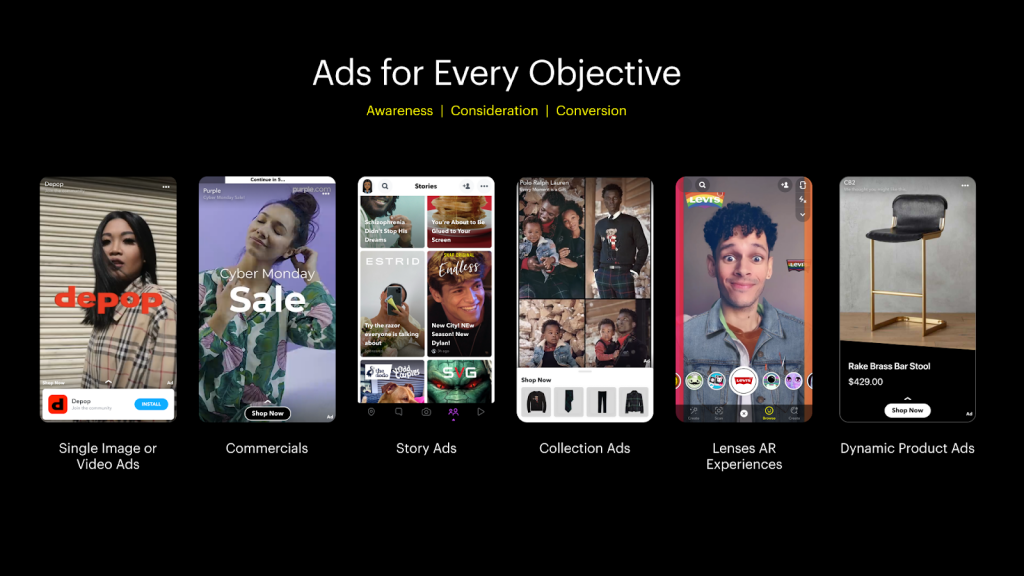 Snap Connect
The new education platform 'Snap Connect' was launched by the company for its Snap Focus marketer. This platform has advanced courses on Direct Response (DR) advertising with expert insights. Being an extension to the Snap Focus program, the company is now expanding the opportunities for advertisers with the introduction of this new platform.
Currently, Snap Connect offers three streams of certifications courses of advertising in:
1. Mobile gaming: This program includes re-engagement campaigns, user acquisition, and more of such strategies to learn. Marketers have the option to choose from North America or the international path.
2. Apps: This course will help advertisers to discover the most impactful ways to promote and grow their app with Snapchat, even if their audience/customers are located in North America, Europe, MENA, or APAC.
3. E-commerce: Due to the steep rise in online shopping, many advertisers aim to redirect users to their apps or website through promotions on various social media platforms. With this course, – which is available in either North America or International paths – you will learn how to achieve your most sales goals by driving customers from Snapchat to your app or website.
Each of these specialized Snap Connect certification courses – and more to follow in the future -offers fresh insights, product solutions, creative best practices, and client success stories – that too are tailored to the advertiser's industry and region. They will cover all aspects of Snapchat's various DR ad offerings, including Dynamic Ads and Snap's evolving shoppable AR experiences. 
How to Gain A Snap Connect Certification?
To gain a Snap Connect certification, advertisers have to watch a series of video-based modules. Each of the three certification courses offers different modules for North American and international advertisers.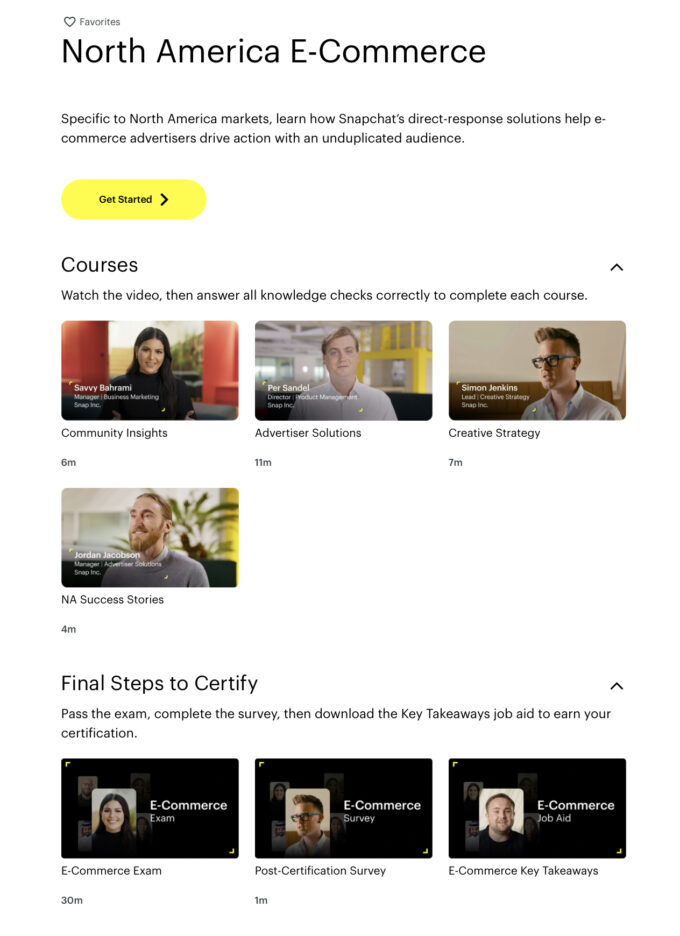 Generally, a Snapchat's certification course would include a 30-minute video session, with 4 courses, each ranging from 4 to 11 minutes in length. Snapchat subject-matter experts will guide you through the ins and outs of their direct-response solutions in these video modules. Once you have finished watching the videos you have to complete the knowledge checks, and pass the exam, which would again take approximately 30 minutes in all. That is in around an hour, Snapchat advertisers can earn a new certification.
In contrast to Facebook's certification programs, which provide the material free but have a charge for the exam, the entire process of earning a Snap Connect certification – from watching the video to passing the final exam – is free of cost.
However, to see the video content and take the exam a Snapchat Ads Manager account is required and those with this account are also eligible for a certification program launched this year called Snap Focus.
Snap Focus Certification Program
Snapchat already has a certification program called Snap Focus, which was launched in June this year. Similar to Twitter's 'Flight School' and Facebook's 'Blueprint', this new training platform offers a wide range of courses on Snap ad tools. The goal of this program was to educate advertisers and agencies on the basics of advertising on its platform by taking advantage of Snapchat's suite of ad products, designs, and feature sets.
When compared to Snap Connect, this certification program is broader in scope as its materials go into greater depth on each topic. Each video module's time ranges from 9 to 33 minutes in length and there's no final exam for certification. If you manage to complete all 6 videos in this program, you will earn a Snapchat Ads Manager certification.
Snapchat said during its first-quarter earnings call earlier this year that DR advertising had nearly doubled as a share of its ad revenue over the past two years and made up more than one-half of its total revenue. The company added that it intends to expand Snap Connect programming into additional advertising verticals. Dominic Rioux, the Snap vice president of sales said in a statement that Snap Connect is a way for the company to ensure that their advertising partners have everything they need to find success on its platform. 
As DR becomes a bigger part of every business' advertising and marketing plans, it is believed that Snap Connect will help advertisers more easily and efficiently by driving meaningful return on investment on Snapchat. The company will also publish a report on shopping trends and the new normal later this year to help brands set their 2021 campaigns on the platform. Hopefully, we can expect more courses from Snapchat in the near future.