Google Trends in UAE: What People Searched in 2020?
February 4, 2021
Article Overview
10min read
2020 was no ordinary year; in fact, it was a rough year for the nation with the coronavirus pandemic, where people all over the world were forced to contend with new normal: lockdowns, mask rules, economic impacts and travel restrictions. But even with the pandemic as a ubiquitous backdrop, life went on. Countries held elections, cricket matches and so on by following COVID-19 guidelines. Internet traffic grows amid these lockdowns across the globe and predictably, the pandemic dominates search-engine queries. Are you curious to know the 2020 Google trends in UAE and wondering what people in the UAE searched the most in 2020? 
Let's see!
2020 Google Trends in UAE
Google announced its most popular queries and top trending online searches for the UAE in 2020 – a year in which the nation joined a global hunt for seeking answers about the coronavirus pandemic. While 'coronavirus' dominated the top Google searches, other queries such as 'Dubai permit', 'US Election 2020' too found a place on the yearly list.
Check out the top Google trends in UAE – that is related to top queries, public figures, events, movies, and news:
Top Trending Queries
1. Coronavirus
2. US election 2020
3. Indian Premier League (IPL)
4. Coronavirus update
5. Joe Biden
One of the queries that were top of the charts in 2020 are about coronavirus – or COVID-19 –, as people sought out information on this fast-moving subject which caused major economic and social disruption. Infecting close to 70 million people, the consequences of the pandemic – that lead to lockdowns and widespread stay-home measures – quickly spread out and governments grappled with the fallout.
Interestingly, Coronavirus was not the only major international query people mostly searched in UAE. It comes as a little surprise that a major international event too grabbed the attention of UAE residents and that is the 2020 US Election. The bitter and closely-fought presidential election in the US ranked second place in the top trending queries, as UAE watched on with great interest to see who was winning the White House hot seat – the Republican incumbent Donald Trump or Democratic candidate Joe Biden.
The third on the list is The Indian Premier League 2020 – which was held in the UAE this year because of the surge in Covid-19 cases in India. A search for Coronavirus update was in the fourth spot, demonstrating a desire among the public for knowing the current situation of the pandemic. The fifth place was taken away by Joe Biden, which again highlights the appeal of the US election battle.
Public Figures & Celebrities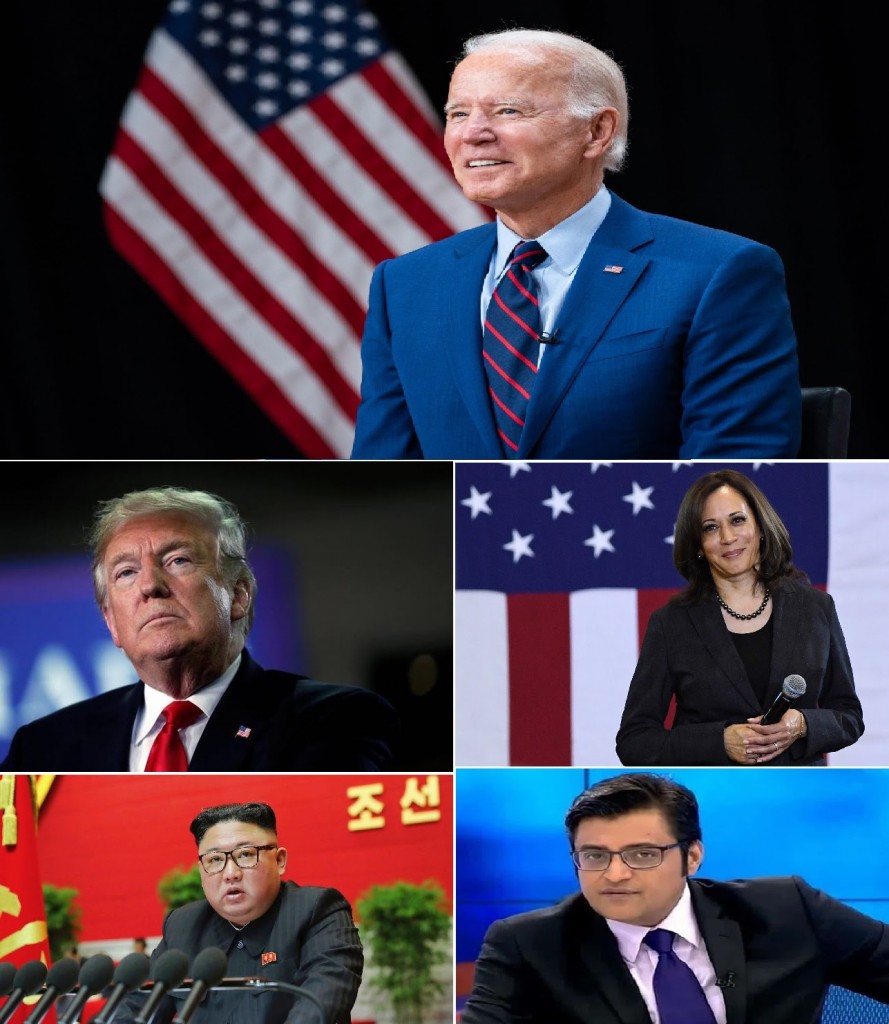 1. Joe Biden
2. Donald Trump
3. Kamala Harris
4. Kim Jong Un
5. Arnab Goswami
Surprisingly, in 2020, it was politicians who were thrust into the limelight.
The current US President Joe Biden took first place in last year's Google Trends in UAE, with Donald Trump second. The third spot was taken away by America's first female vice president, Kamala Harris. The North Korean leader Kim Jong-un was also trending among people because of the rumors of his death. Arnab Goswami, an Indian news anchor who is also the managing director and editor-in-chief of Republic Media Network, hits fifth place.
Other politicians included the Sultan of Oman, Haitham bin Tariq, who succeeded the revered Sultan Qaboos as leader after his death in January, and British Prime Minister Boris Johnson was also trending among UAE residents.
Trending News & Events
1. US election 2020
2. Bihar election result 2020
3. Iran Coronavirus
4. Lebanon Explosion
5. Italy Coronavirus
The top first search in this category was the US elections, followed by the Bihar elections and Iran's coronavirus battle. The port blast in Beirut, Lebanon, which happened on August 4 – that ripped a city to shreds and reopened old wounds for a fragile population – hit the fourth place,  with Australia's devastating bushfires seventh.
Movies & Series
1. Money Heist
2. Soorarai Pottru
3. Contagion
4. Dil Bechara
5. Bigg Boss 13
With the lockdowns, stay-home measures and remote working practices, people had more time to catch up on their favorite shows in 2020. Netflix's Spanish crime drama Money Heist stole the top spot in this category. Movies Soorari Pottru – a Tamil movie which was put on hold due to the COVID-19 pandemic was digitally premiered through the OTT platform Amazon Prime Video on 30 October 2020 -, a 2011 American thriller film Contagion- which received a renewed popularity due to the pandemic due to its some resemblance to the pandemic depicted in the film – and Dil Bechara topped the second, third and fourth position in the searches.
The above-listed trending data was altogether generated on the basis of the searches and trillions of queries which people asked on Google. Therefore, Google trends is an excellent tool to research potential keywords when planning a PPC campaign. With more and more businesses stepping onto online advertising and trends constantly changing, it's important to stay ahead of the curve. That is, with the help of Google trends, you can find trending topics, keywords in a region or around the world and potential hashtags to use in your social media campaigns, and tailor your business accordingly. Most importantly, with these trends, you can increase your social media platform engagement, because what people search on a search engine often aligns with what they search for and post about on social media.