Google Ads: Lead Form Extensions added to YouTube and Discovery campaigns
August 19, 2020
Article Overview
10min read
For giving advertisers new ways to capture leads while people watch videos, Google is rolling out lead form ad extensions to YouTube and Discovery campaigns.
Since last October, Google has been testing lead form ad extensions in Search campaigns and has been rolling out more features to help support brands battling business loss due to the pandemic. With this new feature, Google helps you to find and connect with your best leads on Search campaigns and beyond.
What is Lead Form Extensions?
Lead Form Extensions was introduced last year by Google to help capture your potential customer's information when they search for your company, products, or services on its platform. The extension was created to restore the need for directing prospects to a post-click page to convert.
However, the new lead form extension allows advertisers to attach lead forms to their ad campaigns not only in Search – which before works only as extensions to a Search campaign- but also in YouTube and Discover as well. It helps you to find high-quality leads in a more efficient way by putting up a conversion point directly on an ad, giving your potential customers an easy way to provide information as they search, discover and watch significant content.
Once a user expresses his/her interest in the ads by clicking on them, a lead form appears and will expand into a conversion form. From here, users can fill out and submit the forms without ever leaving the screen they're on, especially if a user is logged into their Google account, then these forms can be automatically filled in with just a few clicks and also can be submitted easily.
In its official blog post, Google has shared that Jeep (Korea Branch) was the first company to test out the lead form extension on YouTube. The company reportedly saw a 10x increase in their completed leads. Jeep further goes on to claim that among all ad platforms, the lead form extension has proven to be the most cost-effective way to generate leads. 
How Lead Form Extensions Work?
The new lead form ad extension functionality can streamline the user journey by removing the need to click through to your landing page as it helps you collect leads directly from ads. However, Lead Forms does put a bigger onus on creating a powerful ad copy that can convert a user without getting more information. It can be difficult to create a powerful ad copy as it is hard to identify where consumer demand is shifting while making sure you have the right query coverage. In the past three months, we've seen Search interest surge for terms like "small business loans," "video conference" and "online learning."  So to help with these changes in consumer behavior start by focusing the fundamentals, such as:
1. Tap into Intent: Evaluate billions of combinations of signals in real-time and pair broad match keywords with Smart Bidding.
2. Inspire new audiences: To generate qualified leads at scale, inspire new audiences across Google.
3. Pursue Google's creative best practices: Always create ads that clearly articulate your value to people researching new brands. Highlight your message with your unique user benefit, a strong call to action, and a variety of ad extensions, so that when a user sees your message, they may feel to connect with you.
With a powerful ad copy, advertisers are able to collect leads directly from ads by using lead forms, instead of sending potential users to a separate landing page. 
Lead Forms on Various Campaigns
Various campaigns on which lead forms can be added include: 
1. Search Ads: Lead forms in Search ads can be added as extensions to existing campaigns.
2. Video campaigns: Here, lead forms are added during the campaign creation process as well as from the setting menu of the campaign.
However, for video campaigns lead forms, advertisers have the choice to select which type of leads they would like to capture. The options include:
1. Higher volume: To reach a maximum number of people.
2. Higher intent: To reach people who are more likely to be interested in your product.
Once advertisers have decided on which type of leads they would like to capture, they are then asked to determine which pieces of information they want to gather from users. As there are many types of information advertisers can ask for – such as name, email, phone number and postal code – Google has now expanded the field options since it initially started testing lead forms. The extended version lets the advertisers opt to collect city, state, a country, as well as business contact information – which includes company name, job title, work email, and work phone.
In addition to this standard set of questions, there are also more specific questions for each industry vertical. For instance, questions that can be specifically asked to home buyers, auto industry, job hunters, and so on. That is, if you are a property company, there are questions specific to home buyers such as what their spending budget is, the areas they are looking into, etc. In case, if these options are not sufficient to draw out the need of a user, then advertisers can write their own questions on the form.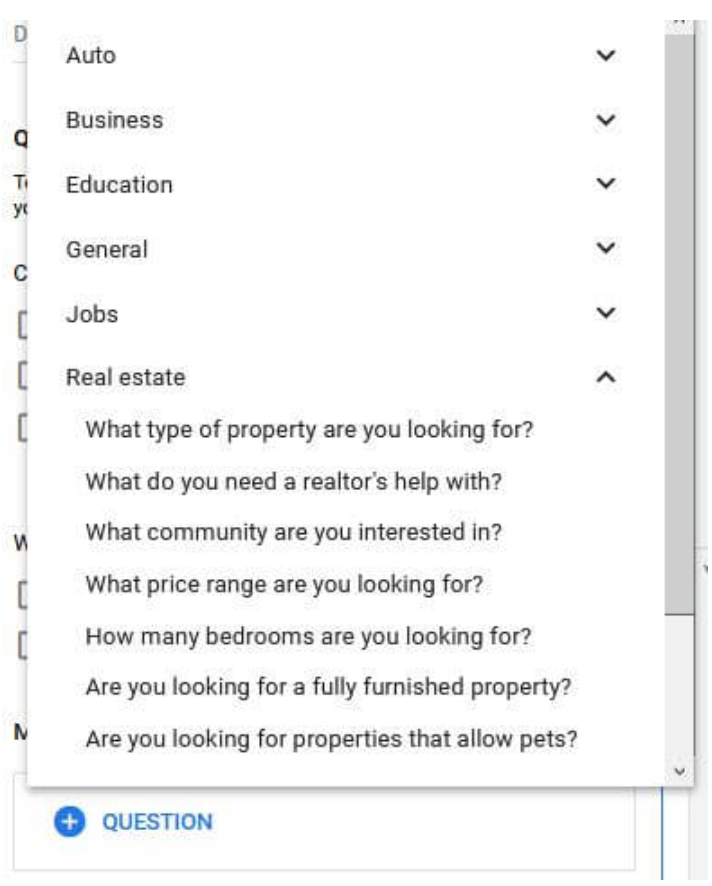 Once the leads are captured, they can be downloaded and managed in a CSV file. However, it is only possible to download leads from the last 30 days, so advertisers need to regularly check for newly captured leads. 
Later this year, Google will be rolling out lead form extensions to display ads as well, and advertisers will soon be able to collect leads from nearly every corner of the web.
Along with lead form extensions, Google also released some additional features – such as call ads and new initiatives to automate data imports into Google Ads – focused on driving better lead value.
Drive Leads with Call Ads
To help people connect with a business in more ways, Google has built lead-focused ad formats that include call ads and lead form extensions.
As consumers now prefer to use more varied methods to communicate with a business, Call ads are designed for any business that relies on phone calls to drive leads. These ads urge people to call a business for more information and can appear on any device that makes phone calls.
However, to make it easier for people to learn more about your business before dialing you include the "Visit website" link with your ads (optional). It can help you get higher-quality calls and more qualified leads. 
Automate Data Imports Into Google Ads
Even if we want to drive leads, our ultimate goal will be to turn those leads into sales. And for that to happen, you need to connect your converted leads to your online campaigns.
To help advertisers optimize their campaigns, Google said it would be rolling out new initiatives to automate data into Google Ads. The company said they are making it easier to import offline conversions just by using the information people already give the advertisers in their lead form. Several advertisers are testing this option now.
All these new changes made by Google are yet another release geared towards helping businesses survive during and post COVID-19. As consumers shift to more online purchases than ever before, it's important to keep your ad campaigns up to date, proficient, and optimized.