9 Big Updates In Social Media Management – November 2018
December 7, 2018
Article Overview
10min read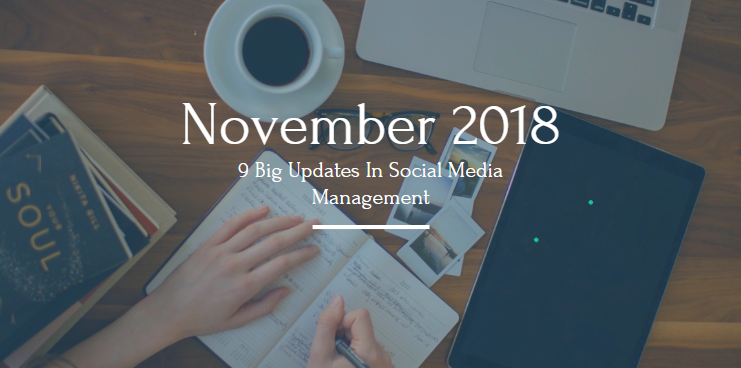 In the month of November, the fight for users' attention and the advertisers' cash continued in the social media management space as most of the big social media platforms rolled out important updates.
While most of the announcements were focused on creating better platforms for the users – after all they spend their time and money, some of the updates are particularly targeted at helping advertisers generate more ROI on marketing spend.
If you have not been keeping up with the announcements, here are some of the major updates and announcement that happened in the social media management world in the month of November.
Unsend Message Feature For Facebook Messenger
After months of waiting, following Facebook CEO's announcement, the "unsend message" feature has been rolled out to iOS and Android users in some countries with more countries to be added in the coming months.
This is a welcome development as we all have been in situations that required removing text or image after we hit the send button. Unfortunately, it has never been possible with the Facebook messenger.
But with this update, you can now remove texts, images, videos, and links sent in error.
However, there is still a little downside to it. You can only delete messages within 10 minutes of hitting the send button.
And just like its sister app – WhatsApp, traces of the deleted messages are left behind. The recipient is notified that a message(s) was deleted by the sender.
Facebook Messenger Joint Video Viewing – Testing Mode
Facebook continues to deliver on its mantra of bringing people together as it tests the communal video viewing feature.
The Facebook Messenger Joint Video Viewing feature, when launched, would enable you to share and watch a video with your friends at the same time.
The feature would also allow you and your friends to share your views about the video as you stream. All these happen within the messenger platform at the same time.
Subscription Messaging Permissions For Facebook Pages
Facebook is putting a lot of efforts into ensuring that user data is secure. In the past month, the tech released a statement that page admins will now have to get subscription messaging permissions to be able to non-promotional subscription messages to Facebook users.
They are serious with the move and the deadline is January 1st, 2019. Meaning that if you fail to get the necessary approvals by new year's day, you may not be able to send subscription messages to your Messenger subscribers.
WhatsApp Rolls Out Design Your Own Stickers Feature
WhatsApp is getting ready for 2019 in style and many experts have predicted it to be the next big thing in the world of social marketing. To add more excitement to the platform, the developers have added "design your stickers" feature. This means that you can now create your own stickers even if you have zero coding experience. That's fun if you ask me. Try using it, your chats will become livelier and your friends and associate will thank you for it.
Instagram Promoted Stories – Testing Mode
The month of November was for Instagram. Many features were rolled out by the developers and big announcements from the social platform rocked the social space on a weekly basis. The Instagram promoted stories – still in testing – allows you to promote your brand stories without making it come off as another marketing tactics.
Crackdown on Accounts with Fake Followers
Instagram is working relentlessly on delivering value to its users as it moves to remove fake followers and likes gained via third-party apps. This move would be very helpful in influencer marketing.
Instagram Rolls Out New Usage Dashboard
The new Instagram dashboard makes it possible for users to track the time they spend. This is particularly useful to users who would want to manage or better allocate the time spent on various activities on the platform.
LinkedIn Integrations with Google Campaign Manager and Vimeo
The social platform has announced plans to roll out a feature that would make it possible for marketers to integrate the platform with Google Campaign Manager. This will allow marketers running campaigns on the platform to easily compare and manage their LinkedIn and Google ads within one dashboard.
You Can Now Manage LinkedIn Business Pages Through A Mobile App
Social media management is going mobile and LinkedIn doesn't want to be left behind. LinkedIn business page admins can now take care of business on the via a mobile app including posting, engaging in conversations, managing functionalities, and generating reports.
It is no longer news that social media management in Dubai is an invaluable asset to companies that know how to handle theirs.
If you would like the best social media management company in Dubai to handle your social presence and elevate your company's online status, this team of superstars will definitely help you reach your goal.