Google Rolls Out New Visual Ad Options for Shoppers and Brands
July 20, 2020
Article Overview
10min read
Targeting shoppers and brands, Google recently rolled out new features for exciting visual ad options such as Image Extensions, Smart Shopping campaigns, and responsive display ads. Even though this feature expansion might look like routine housekeeping and updates for a platform, they are actually indicating how Google is fast-growing when compared to other platforms.
According to Google's official blog post, with more consumers sheltering at home due to COVID-19, digital adoption has quickly hastened and changed consumer shopping behavior globally. However, as there is so much information and choice available online, the room between purchase prompt and the purchase itself has become very complex. Google's latest Decoding Decisions research reveals how shoppers manage this complexity.
Considering the fact that online shopping continues to be the norm during COVID (and perhaps after it), to influence the hundreds of millions of consumers who come to Google every day, the search engine company added new ways for a business to:
1. Showcase and enhance their brand and products visually to spark action across Google Search, Shopping, and Display ads.
2. Optimize and develop their customer acquisition volume.
3. Amplify their e-Commerce experience.
Many advertisers are using alternate platforms like Facebook, as it is strong in finding people who are at the top of the sales funnel (they are new prospects who may not be searching yet for something), and offers rich visual options as well.
In contrast to that, Google depends heavily on the bottom of the sales funnel (remarketing) or the users in the purchase journey due to the fact that they are already searching for something. They also felt inconvenient and more labor-intense for shopping and comparing, an area that Amazon has dominated for many years.
However, the latest additions of features for enriching shopping that includes Image Extensions, enhancements to their Smart Shopping campaigns, and some upgrades to visuals in-display ads will help in closing these gaps. 
Here is more information about new features (almost all the features are available right now).
Image Extensions Beta Program
One of the most appreciated parts of Google's Discovery Campaign types is its rich ad creatives. That is, 85 percent of people who shop online, say that product information along with its respective images are important to them when deciding which brand or retailer to buy from making it very clear that visual elements are the key to engage shoppers. Considering that, Discovery ads also recently show how it visually inspires shoppers scrolling their feeds on YouTube, Discover, and Gmail as well as how an advertiser can make videos that are shoppable on YouTube. To bring the same rich product experience to Google platforms and to help a brand or product to grow their online sales with their Search ads, an image extensions beta program is launched.
This feature allows you to easily add high-quality, rich assets, thereby helping shoppers to quickly see the products to consider and take action faster.  For instance, a German luxury fashion house, Hugo Boss after using image extensions with responsive search ads had seen a 2.5x improvement in their ROI (Return on Investment) and a 5 percent lift in click-through rates.
Available specifically for search ads, it lets retailers to either upload relevant images (along with text), or Google will automatically choose one from retailers' websites via machine learning.
Accounts that see a notice (in their account) when they go to the Extensions area are eligible for applying Image Extensions.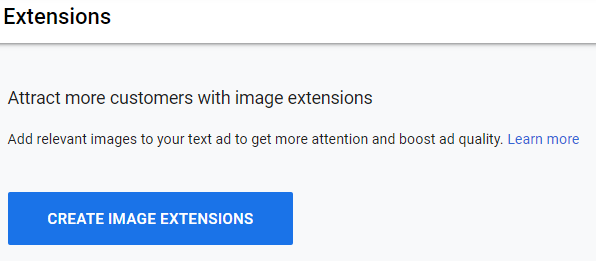 New features for Smart Shopping Campaigns
Rolled out initially in the U.S. from July 15, 2020, Google is now offering retailers with more new visual features – that target more information and online presence – to stand out from the competition with Smart Shopping campaigns. Retailers can now highlight features like free and fast shipping in their campaigns and will also provide consumers with additional information in the ad.
Google notes that dynamically-generated carousels will appear in the shopping experience later this year and retailers will also be able to include video content within display ads.
For new customers on Smart Shopping, Google is now enabling bidding.  This is a part of the Conversion Goals feature that contains a checkbox for "New customer acquisition".  The feature has the ability to assign a value to a new user on the basis of that conversion.
Enhanced the look and feel for Responsive Display ads
Along with launching the Image Extension Beta Program and adding new features to smart shopping campaigns, Google also enhanced the look and feel for responsive display ads to make it even more relevant and easier to manage. This helps retailers to engage shoppers in their website, as shoppers browse millions of sites and apps with their Display campaigns. The features that got a modern refresh are:
1. New creative layouts
2. Automatically generated video ads
3. Updated dynamic ads
The updates dynamic ads can now display a retailer or advertiser's business name alongside their logo, highlight their latest promotions, and even spotlight a single product.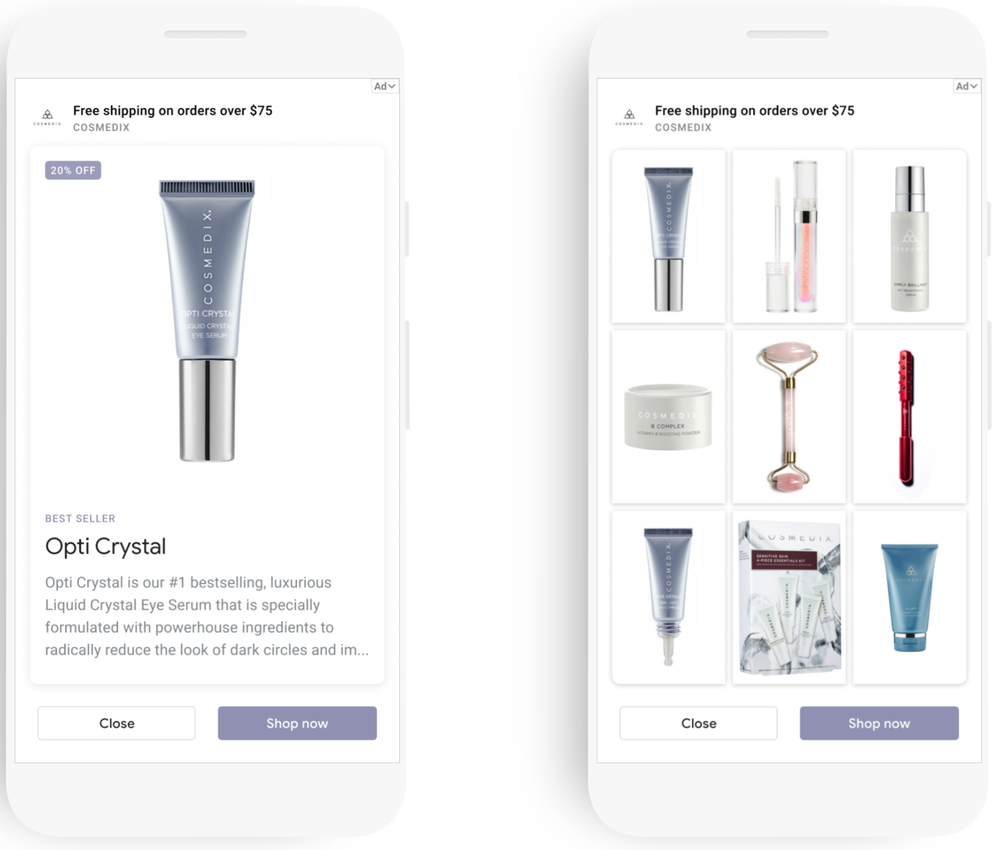 With these new changes to responsive display ads, Google has also launched new features to Responsive Search Ads (RSA) for retailers who can also now effectively emphasize sales or time-sensitive deals with a countdown. It also helps to get suggestions on how to promote online availability, shipping, and returns. 
And finally, Google also added some new information resources to its Advertising Solutions Center. It includes customer and trend research that helps guide a retailer's strategic approach. Remember that highly targeted digital ads with great creatives tend to get more clicks and conversions.
The Vice President of Google Search Ads, Darshan Kantak, says that these latest updates will help businesses capture online shopping demand and achieve their marketing objectives.