Google Adds A New 'Fact Check' Feature For Image Search Results
July 1, 2020
Article Overview
10min read
Google is constantly trying to make it easier for users to identify fake or manipulated pictures online because images surfacing online aren't always what they seem to be. And, one such latest effort Google put towards this concern is the "Fact-Check" label.
On June 22, 2020, Google introduced "Fact Check" labels worldwide to thumbnails for some Google image search results. This new feature is introduced as a continuance of Google's fact check efforts in Search and News.
The search engine company announced that, with the new "Fact-Check" feature, it will start identifying some misleading or out-of-context photos in its specific search tool for images. The feature will also help users navigate issues around determining the genuineness of images and make more informed decisions about the content they see on the web.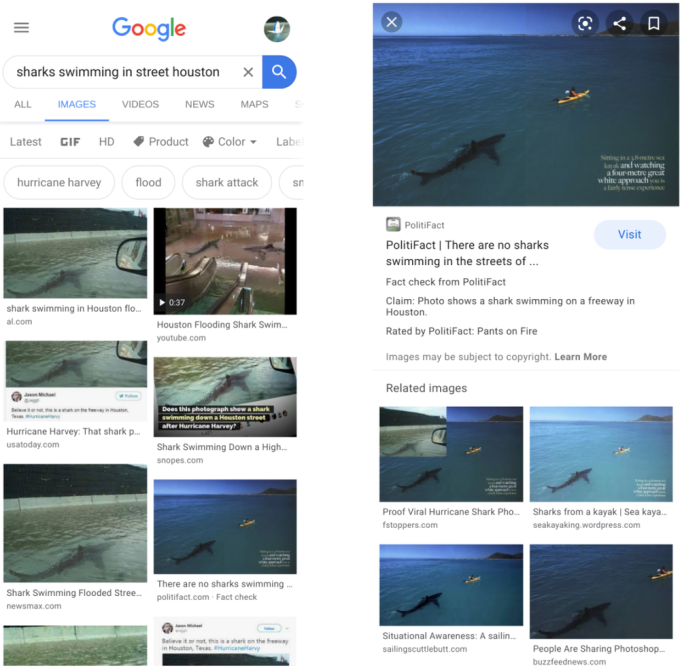 After introducing the new fact-check labels, Harris Cohen, Google's Group Product Manager for Search wrote in a blog post, "Photos and videos are an incredible way to help people understand what's going on in the world. But the power of visual media has its pitfalls especially when there are questions surrounding the origin, authenticity or context of an image."
This is absolutely true as recirculated images are likely to pop-up in the most major online conspiracy and viral misinformation cycles, and many ignorant internet users have a tendency to believe what they see — even if the images they are viewing were edited or otherwise removed from its context.
With the new changes, when a user searches for an image, some of the images will reflect the new 'Fact check' label just underneath the thumbnail of the image that will allow the user to determine the authenticity or genuineness of the image results.
For instance, Google, in its announcement, provided the example of a query "sharks swimming in street Houston."
When this query surfaced on search, Google provided the example of a widely circulated set of images which shows the false claim of sharks swimming in the streets of Houston after a hurricane in 2017. Along with the results, a "Fact Check" label is also displayed underneath the thumbnail of the image. The user can tap on these results to enlarge the image and a short summary of the fact-check appears, which also directs the users to its source. However, the addition is just a few lines of text, like a colourful label that will indicate clearly that the content has a special status.
Google says, "Fact Check" labels will only appear on select images that come from independent, authoritative sources on the web that meet Google's criteria.  However, it is not yet clear what criteria a publisher has to meet to be considered authoritative.
According to Google Search help, Google uses an algorithm to decide which publishers are trusted sources. In addition, Google also relies on ClaimReview, which is an open-source method for publishers to communicate to search engines that an image has been verified. These labels may not only appear for a fact check articles about specific images but may also for a fact check articles that include an image in the story.
In fact, Google has been using these fact-checking labels for years in its regular search results and Google News. The video-streaming site, YouTube also utilizes ClaimReview to surface fact check information panels in Brazil, India and the U.S. As per the Google News Initiative, Fact Checks now appear more than 11 million times a day in search results globally and in Google News in five countries including Brazil, France, India, U.K. and U.S, which comes to approximately 4 billion impressions a year.  
Harris Cohen clarified that even if, adding ClaimReview markup is widely encouraged, being eligible to serve a Fact Check label does not affect rankings, which is applicable for Google Search, Google Images, Google News, and YouTube. The systems are designed to surface the most significant, trustworthy information available, including from sources that provide fact checks.
Cohen further added that the Google News Initiative provided $6.5 million in funding support to organizations around the world earlier this year, to recognize the important work done by fact-checkers during the ongoing pandemic. Collectedly, all these efforts not only highlight the significant contributions of the fact check community but also make sure that people have access to vital context about the information⁠—and now images⁠—they come upon online.